HEROES: MY HEROES ACTUALLY HAVE REAL SUPER POWERS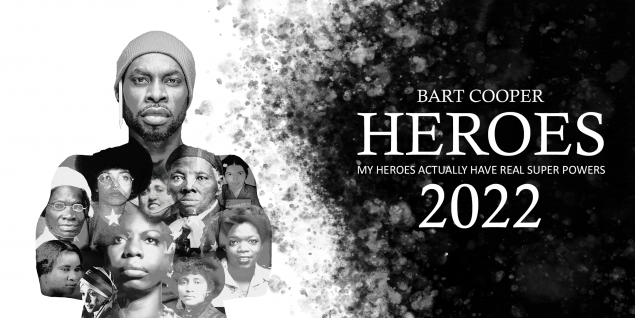 When Liberian-born, American-raised multidimensional contemporary artist Bart Cooper showed a young man a picture of Harriet Tubman, she was unrecognizable to him by name. "I think that's the Underground Railroad lady," he replied, confirming that he knew very little of Harriet's contributions to American society. Bart then showed the young man an image of the Superman emblem and his eyes lit up, "Of course I know who that is," the young man exclaimed, "that's Superman! The greatest superhero to ever live!"
This interaction with the young man became an enlightening observation for Bart as he reflected on the disparity between our recognition of popular culture's fictitious heroes versus those who actually exist. Here it was, a young man who could recognize a comic book superhero character simply by his emblem, yet know next to nothing about one of our nation's greatest heroes who shaped our time. The heroes Bart grew up believing in deserved just as much, or better yet more, recognition as their popular counterparts. They share similar stories and in turn similar powers in the face of opposition, but only one is real and deserves to always be remembered.
In "Heroes: My heroes actually have real superpowers," Bart Cooper invites you to experience the first volume of what being a superhero looks like through the lens of popular culture, and what better way to do that than by paying homage to the most popular comic book characters and American history's leading ladies of justice and change. With each work measuring 48" x 48" inches in length, Heroes brings us face-to-face with ten powerful women who stand united in their quest for a more free and equal world. Bart invites you to reflect on the shared characteristics and superpowers of these heroes, as he strategically intertwines the real with the fictitious characters of modern-day heroism through the contemporary use of mixed media. His selection for the first volume are in no doubt powerful women who incited change through bold acts of courage, grit, and grace and very easily match-up to Marvel and DC's version of heroes with similar backstories of supernatural powers. "Their struggles, their trials and tribulations, their willingness to fight through showed strength and resilience. These people had powers and practiced them rigorously, and not only for themselves, but for others." Each piece guides us deeper into the minds of these heroes, allowing us to experience their actual words and writings that serve as proof of their raw power and existence. He took these superhero's powers and used them to move through his trauma, his struggles, his life, in hopes that others can do the same. Heroes was birthed with the intent to spark dialogue and trigger an internal examination of the superpowers we all have within.
Find out more about Heroes: https://heroeslv.com/
Public Reception to be held on March 18, 6-9 p.m. in the Crayola Gallery
FREE Arts Education Programs for Students and Teachers
Download Flyer
Programs for K-12 Students:
We are offering a variety of programs inspired by Heroes for all grade levels. From booking a school visit with artist Bart Cooper to field trips to virtual lesson plans, we have something for everyone!
In-person school visits with Bart Cooper to find out about his artist career and inspiration for Heroes.
Lesson plans for in-school learning that teach students about Heroes and provide inspiration for creating original works of art.
Field Trips to the Banana Factory to view the exhibition, learn about Heroes, and create artwork inspired by the show.
Afterschool enrichment programs held at your school.
Virtual engagement through digital lesson plans and virtual gallery tours with Bart Cooper.
All Heroes inspired artwork will be shared in both physical and digital exhibitions through the Banana Factory!
Programs are being offered at no cost to participating schools! Bus funding is available upon request.
Please contact Lisa Harms at lharms@artsquest.org to book your program!
In Partnership With:
Title Partner:
Gold Sponsor: