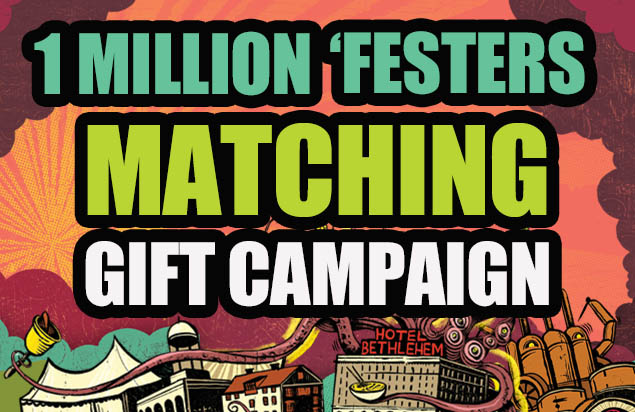 1 Million 'festers Matching Gift Campaign
In order to reach our 1 Million Dollar goal, the ArtsQuest Foundation Board of Trustees have extended the 1 Million 'festers Matching Gift Campaign to December 31, 2020!
For each new donation given through December 31, ArtsQuest will receive a dollar for dollar match from the ArtsQuest Foundation Board of Trustees up to $500,000.
So, double your impact today!
Since its inception in 1984, Musikfest has grown from roughly 180,000 attendees to more than 1 Million 'festers! Our community depends on Musikfest and ArtsQuest for cultural and artistic experiences. And now more than ever, ArtsQuest depends on you. Including Musikfest, ArtsQuest presents roughly 4,000 camps, classes and programs annually, approximately 50 percent of which are free to attend and have a combined economic impact of more than $136 million annually in the region.
Will you help secure Musikfest's and ArtsQuest's future?
The recently enacted government stimulus bill (the CARES Act) also makes it easier to give to ArtsQuest. The bill grants an above-the-line deduction for up to $300 in charitable donations even if you don't itemize your 2020 tax return. Consider using this benefit to support ArtsQuest. For individuals who itemize their deductions, the bill also increases the limit for contributions from 60% of the individual's Adjusted Gross Income (AGI) to 100%.
Also, if your company matches, your support will be quadrupled! The ArtsQuest Foundation will match your companies contributions as well.
Thank you to the ArtsQuest Foundation Board of Trustees for creating this opportunity. And thank you for helping ArtsQuest complete this matching gift and continuing to be a part of our story.