ArtsQuest Circle
Do you have questions about ArtsQuest Circle or are you interested in upgrading your Q Level? Contact our Manager of Donor Relations at khein@artsquest.org or 610-332-1351.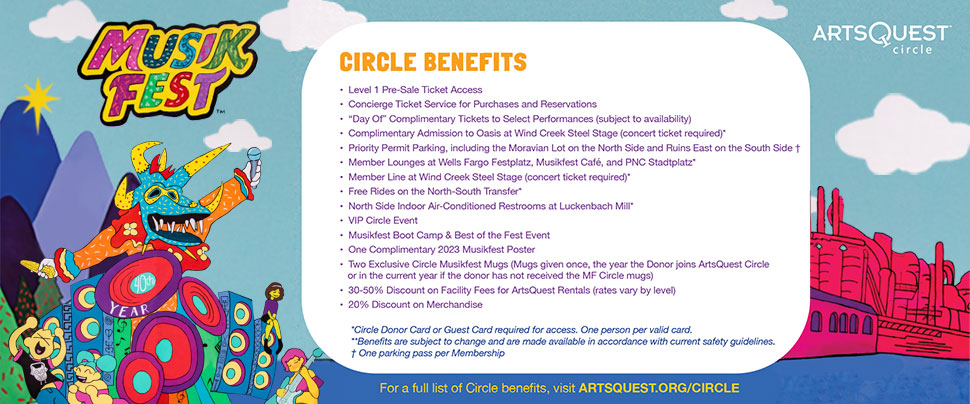 ArtsQuest Circle donors champion ArtsQuest's mission to provide access to exceptional artistic, cultural and educational experiences using arts and culture as key elements of economic development for our urban communities.
In 2011, ArtsQuest fulfilled its long-term vision of creating a 21st Century arts, culture and education campus by reimagining the abandoned Bethlehem Steel plant, with the development of the ArtsQuest Center and SteelStacks campus.
Today, with more than 150,000 square feet of indoor space and nearly 10 acres of outdoor space, ArtsQuest has become a leading provider of cultural programming for our region. ArtsQuest properties and facilities include:
ArtsQuest Center at SteelStacks
2-screen state-of-the-art movie screens at the Frank Banko Alehouse Cinemas
Creativity Commons
Lee & Stella Yee Family Connect Zone
Fowler Blast Furnace Room
Alvin H Butz Gallery
Musikfest Café
Highmark Blue Shield Community Stage on the Air Products Town Square
Levitt Pavilion at SteelStacks
Banana Factory Arts Center
Crayola Gallery
Banko Gallery
Olympus Digital Imaging Classroom
Hallways to the Arts Gallery
28 Artist Studios
ArtsQuest Hot Glass Studio
Ceramics Studio
Visual Arts Classroom
Photography Darkroom
Jewelry Studio
The impact of ArtsQuest Circle annual donations is realized across the organization.
Access to the Arts
Each year more than 40% of ArtsQuest programming is provided free of charge, reaching more than 1.8 million people annually. ArtsQuest Circle supports this mission through the presentation of music, visual arts, film, arts education & outreach, youth programming and cultural events.
Education and Outreach
Thousands of students and adults enjoy arts education and enrichment programs through ArtsQuest ranging from middle schoolers attending after school programs, to seniors with
Dementia, to elementary schoolers at summer school classes, to high school jazz participants and much more.
Visual Arts
As a center for arts education, the Banana Factory hosts hot glass, clay, digital media and photography and jewelry studios; award-winning galleries and serves as the anchor to Southside Bethlehem's First Friday celebrations. Performing Arts Music, film, comedy and dance.
Cultural Events
While many people are familiar with ArtsQuest's flagship event Musikfest, 10 days of free music, arts and culture on both sides of the Lehigh River in Bethlehem, ArtsQuest also offers more than 4,000 events each year including festivals, patriotic celebrations and year-round family programming.
———————– The circle ORANGE ———————–
The circle BLUE
ArtsQuest Circle Benefits
1
2
3
4
5
6
Exclusive Access
2,500
5,000
10,000
25,000
40,000
50,000
Two (2) exclusive designed ArtsQuest Circle Musikfest Mugs
X
X
X
X
X
X
Get access to the Members-Only entrance at Musikfest Main Stage
X
X
X
X
X
X
Receive 20% discount on all ArtsQuest merchandise & select flash sales during the year
X
X
X
X
X
X
Join us at the member lounges in the Musikfest Café and Festplatz during Musikfest
X
X
X
X
X
X
Receive exclusive ability to purchase tickets to a premiere artist concert
X
X
X
X
X
X
Invitations to ArtsQuest Circle hands-on
experiences throughout the year
X
X
X
X
X
X
Join us at the ArtsQuest Circle VIP events throughout the year
X
X
X
X
X
X
Get complimentary access to the Oasis at the Musikfest Main Stage
X
X
X
X
X
X
Get premier self-parking at SteelStacks all year round, including Musikfest
X
X
X
X
X
X
Meet & Greet with artists at the Musikfest Main Stage for up to two (2) guests
X
X
X
X
X
X
Meet & Greet with artists at the Musikfest Café for up to four (4) guests
X
X
X
X
X
X
Receive ArtsQuest Concierge Ticket Service for all ArtsQuest performances & events
X
X
X
X
X
X
Get first ticket purchase access to ArtsQuest performances & events (subject to change per artist management)
X
X
X
X
X
X
Purchase front row seats for Musikfest concerts
2 tickets
(subject to availability)
4 tickets
(subject to availability)
6 tickets
(subject to availability)
8 tickets
(subject to availability)
10 tickets
(subject to availability)
12 tickets
(subject to availability)
Invite friends with Donor Guest Cards to ArtsQuest events
6 cards
6 cards
6 cards
6 cards
6 cards
6 cards
Be a Judge at Souper Bowl
X
X
X
X
X
Award a winner of the
Oktoberfest Dachshund Races
X
X
X
X
X
Tap a keg at Oktoberfest
X
X
X
X
Be a judge at the Food Truck Border Brawl
X
X
X
X
Meet one-on-one with InVision Photo Festival artists
X
X
X
Welcome the crowd for select Musikfest Main Stage concerts
X
X
X
Get exclusive access to on-stage seats for select Musikfest Main Stage concerts
X
X
X
Be the voice of ArtsQuest for select ArtsQuest commericals & promotions
X
X
Participate in interviews on SECTV's annual
Musikfest Special
X
X
Wave the flag and start the Official SteelStacks Grand Prix
X
Tap your own name-branded brew at Oktoberfest
X
Additional Exclusive Benefits
———————– The circle ORANGE ———————–
The circle BLUE
Exclusive Access
2,500
5,000
10,000
25,000
40,000
50,000
Get complimentary "day of" bleacher seat tickets to select Musikfest Main Stage concerts
2 tickets
4 tickets
6 tickets
8 tickets
10 tickets
12 tickets
Get complimentary visual arts, comedy or improv class or team building activities
Up to $150 value annually
Up to $175 value annually
Up to $200 value annually
Up to $225 value annually
Up to $250 value annually
Up to $300 value annually
Receive FREE admission to Christkindlmarkt
X
X
X
X
X
X
Get discounted pricing on tickets to the Frank Banko Alehouse Cinema & Comedy shows
X
X
X
X
X
X
Host it events
1
2
3
4
5
6
Receive an exclusive discounted facility rental rate on events held at any ArtsQuest venue
30%
35%
40%
45%
50%
50%