EMBASSY BANK INVITES COMMUNITY TO SUBMIT IMAGES FOR 12TH ANNUAL 'OUR HOMETOWN HEROES' PHOTO DISPLAY AT STEELSTACKS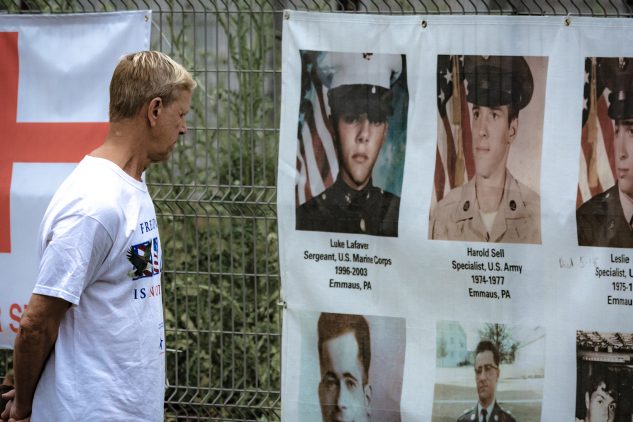 The photo submission deadline is April 1, 2022 to be included in the annual recognition display
BETHLEHEM, PA — Embassy Bank invites the community to submit photos of family members, neighbors and friends who have served or are currently serving in the U.S. Armed Forces for the 12th annual "Our Hometown Heroes" display at SteelStacks. Submissions will be accepted beginning March 1 through April 1. The photos will go on display beginning May 28 for Memorial Day weekend through the Fourth of July.
"We at Embassy Bank are proud to join with ArtsQuest in continuing the tradition of honoring our members of the military, especially those who have lost their lives protecting and serving our nation," Embassy Bank President, Chief Executive Officer & Chairman Dave Lobach said.
The deadline for photo submission is Friday, April 1. The first 200 photos received will be accepted for the 2022 display. Throughout the past twelve years, more than 1,300 images of local servicemen and women from all branches of the military have been on display in honor of our hometown heroes. Individuals can submit photos two ways, either through ArtsQuest's website or photos can be dropped off in person at a local Embassy Bank branch or at ArtsQuest's Banana Factory.
To upload digital pictures of their "heroes" visit steelstacks.org/memorial. Images must be high-resolution jpeg, tiff, bitmap or PDF file. Color photographs, as well as black and white photos will be accepted. Hardcopies will be accepted at all Embassy Bank locations or the Banana Factory, located at 25 W. 3rd St. in Bethlehem. All hardcopies will be returned promptly to the location where they were originally submitted.
The first 200 photos submitted will be displayed on one of the "Our Hometown Heroes'" banners on the SteelStacks campus and include the soldier's rank, branch, dates of service and hometown. All images submitted in previous years will automatically be displayed as part of the "Our Hometown Heroes" display. As part of the display of "Our Hometown Heroes," the public is invited to attend "A Time to Remember" Memorial Day event May 30, 3 p.m., SteelStacks.
Additional details on 2022 Memorial Day events and activities at SteelStacks will be available later this spring at steelstacks.org. ArtsQuest will continue to follow the latest CDC, state and local health and safety guidelines. Visit artsquest.org/safety for the latest updates.