ARTSQUEST ANNOUNCES NEW SHOWS FOR THE MUSIKFEST CAFÉ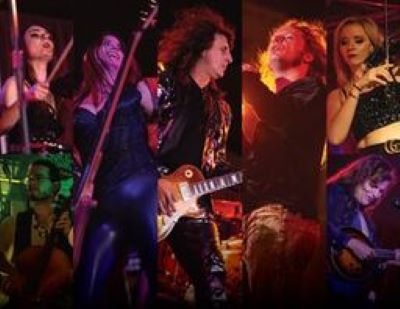 Tickets for both New Suede and In the Light of Led Zeppelin – A Symphonic Zeppelin Experience will go on sale Fri., Jan. 14
BETHLEHEM, Pa. – ArtsQuest is proud to announce two new upcoming shows in the
Musikfest Café
, presented by Yuengling.
New Suede
will perform on Thurs., Feb. 24 and I
n the Light of Led Zeppelin - A Symphonic Zeppelin
Experience will rock the stage on Sun., April 3. Tickets for both shows will go on sale at 10 a.m. Fri. Jan. 14 on
steelstacks.org
. For exclusive ticket access and advance purchase opportunities, become an 
ArtsQuest Circle
donor today. On Thurs., Feb. 24, New Suede will bring its rock, blues and funk fusion style to the Café stage. After moving from Lancaster, Pa to Nashville, Tenn. in 2016, Elijah Perron formed the first iteration of New Suede, regionally touring and releasing three popular singles that quickly garnered audiences' attention by fusing funk and rock. Originally a four-piece set of guitar, drums, bass and keys, New Suede returns with an added blues harp and saxophone to create a blended sound backed by multiple bases. New Suede's first full album is scheduled to be released in Jan. Having performed live for more than 11 years and in eight different states, Perron continues to be the sociable stage performer his audience knows and loves. On Sun., April 3, In the Light of Led Zeppelin - A Symphonic Zeppelin Experience, will bring its intriguing two-hour adventure to Café. Described as "Trans-Siberian Orchestra meets Led Zeppelin," In the Light of Led Zeppelin is an exciting event with an orchestrated arrangement of rock's most iconic music. This seven-piece supergroup of Grammy-nominated men and women features the sounds of the violin and cello, among classic guitar and other instruments. This highly refined tribute ensemble provides a unique musical experience. There is no other tribute experience like In the Light of Led Zeppelin. "It's not a tribute, it's an experience!" is the reaction from fans all over the world. For tickets to Musikfest Café shows up visit
steelstacks.org
. ArtsQuest will continue to follow the latest CDC, state and local health and safety guidelines. Visit 
artsquest.org/safety
 for the latest updates.