Programs for Students
ArtsQuest provides students of all ages with dynamic hands-on art programming either in your school or at the Banana Factory Arts Center. ArtsQuest school programs encourage students to experience, appreciate, and create art by working with highly qualified Teaching Artists in a variety of disciplines. Programs are tailored to the individual needs of your students and can be developed in collaboration with your teachers and staff.
To find out more or request a school program, contact Lisa Harms, Director of Education & Outreach at lharms@artsquest.org
ArtSmart After-school and Summer Art Enrichment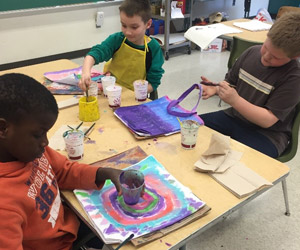 Available for Grades PreK-12
Art enrichment programs are interactive after-school or summer courses that are taught by professional Teaching Artists either in the Banana Factory Arts Center or at your school. Students are not required to have previous art-making experience. ArtsQuest offers multi-disciplinary programs for any grade level. The standard after-school or summer enrichment program runs 6-10 weeks. Visual arts program courses include ceramics, painting, drawing, photography, mosaics, printmaking, and fiber arts. Other program disciplines include music, poetry, and literacy. ArtsQuest will work with your school to develop a customized program to fit your needs.
Student to teacher ratio is 10:1 to provide a high-quality experience for students and individual support from the instructor. Enrichment programs often culminate with an exhibition of student work.
Program Sponsor
Partners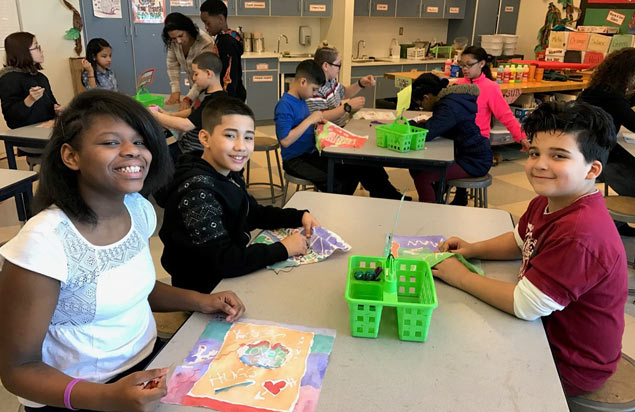 Visiting Artist Residencies and Workshops
Available for Grades PreK-12
Visiting artist residencies are an opportunity for schools to bring Banana Factory Teaching Artists into the classroom to develop and co-teach a curriculum-driven art project in collaboration with teachers or staff. These professional artists train students on the method and medium of a larger collaborative project, such as a mural or quilt, which can be exhibited at the school or elsewhere in the community. This program also incorporates a field trip to the Banana Factory to see where their visiting artist works and creates. The majority of these programs culminate in an exhibition of what the students have learned and created through the help of the visiting artist.
Visiting artist workshops bring Banana Factory Teaching Artists into your school for a full or half day to lead students in a specific art-making project or lesson customized to your curriculum needs.
Visiting Artist Residencies and Workshops take place during the school day.
Marketing Musikfest
Available for Grades 9-12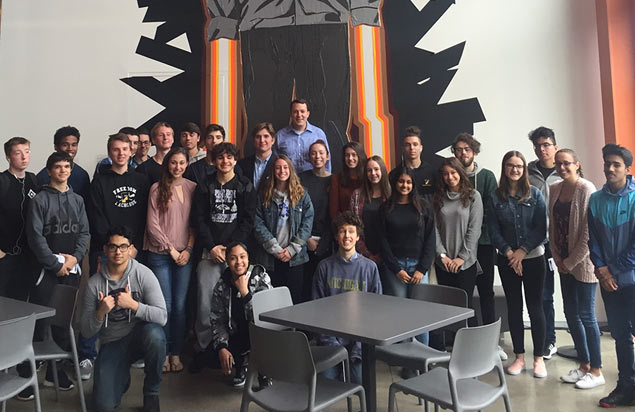 High School students get to experience what really goes in to booking bands to perform at Musikfest, a 10-day music festival presented by ArtsQuest each August. As part of this credited business course, each school will book and promote four bands to appear at the festival on at Plaza Tropical. Each spring semester the weekly hour-long course covers band research and selection criteria, production requirements, development of business and marketing plans, contract negotiation, and funding. Each week a different ArtsQuest staff member presents work in their area of expertise guided by the classroom instructors. In August, students volunteer at the festival, helping with production, marketing and working with their selected performers.
Events