Educator Resources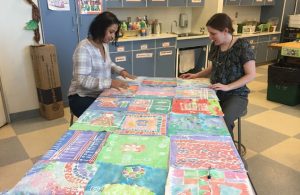 Below is list of FREE online art resources for educators and students that can be used to develop lesson plans, find source material, or inspire art-making activities:
Artist Biographies, Art History, Images
askART is an online database containing close to 300,000 artists, with information ranging from biographies to auction records. At the time of our Internet debut in year 2000, we focused on American artists; however, in 2008, we expanded our coverage to include international records.
art21 is a nonprofit organization dedicated to inspiring a more creative world through the works and words of contemporary artists.
artnet operates an international research and trading platform for the art market, including works of fine art, decorative arts and design. It provides services that promote accessibility, allowing users to research art, contact galleries directly, and to attain price transparency in the art market.
Artsy features the world's leading galleries, museum collections, foundations, artist estates, art fairs, and benefit auctions, all in one place. Their growing database of 800,000 images of art, architecture, and design by 70,000 artists spans historical, modern, and contemporary works, and includes the largest online database of contemporary art. Artsy is used by art lovers, museum-goers, patrons, collectors, students, and educators to discover, learn about, and collect art.
Colossal Launched in 2010, Colossal is a Webby-nominated blog that explores art and other aspects of visual culture. Colossal won the Utne Media Award for Arts Coverage in 2013. Each week you'll find 15-25 posts on photography, design, animation, painting, installation art, architecture, drawing, and street art. Colossal is also a great place to learn about the intersection of art and science as well as the beauty of the natural world. There are frequently posts about things far out in left field, but generally Colossal is a reminder that in the digital age there are still countless people making incredible work with their bare hands.
The Heilbrunn Timeline of Art History from The Metropolitan Museum of Art pairs essays and works of art with chronologies, telling the story of art and global culture through the Museum's collection.
The Getty Research Institute is dedicated to furthering knowledge and advancing understanding of the visual arts and their various histories through its expertise, active collecting program, public programs, institutional collaborations, exhibitions, publications, digital services, and residential scholars programs. Its Research Library and Special Collections of rare materials and digital resources serve an international community of scholars and the interested public. The Institute's activities and scholarly resources guide and sustain each other and together provide a unique environment for research, critical inquiry, and scholarly exchange.
The Metropolitan Museum of Art Collection Online
Lesson Plans, Curriculum Guides, Educator Resources
Americans for the Arts
The Art of Education
The Kennedy Center ArtsEdge
The Metropolitan Museum of Art Lesson Plans for Educators
The Metropolitan Museum of Art Curriculum Resources
National Art Education Association