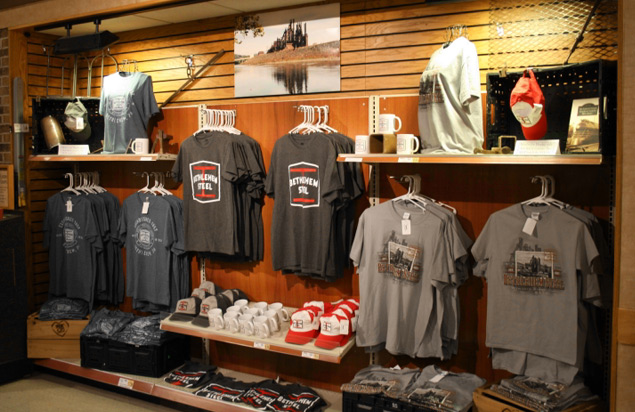 Wegmans & ArtsQuest Partner to Offer Bethlehem Steel Merchandise at Wegmans' Bethlehem Store
BETHLEHEM, PA—Milk….check. Eggs…check. Bethlehem Steel t-shirt….got it!
On Nov. 18, 1995, the flames coming from the Bethlehem Steel's blast furnaces were extinguished as the plant produced steel for the final time. Now, on the eve of the 20th anniversary of the last cast, Wegmans and ArtsQuest are partnering to offer the community a wonderful way to honor and remember the industrial giant that helped shape our nation and our world.
Starting this week, shoppers at Wegmans' Bethlehem store will find a display showcasing select Bethlehem Steel merchandise including t-shirts, baseballs caps and coffee mugs, all with the official Bethlehem Steel logo. The partnership between Wegmans and the nonprofit ArtsQuest marks the first time ArtsQuest has offered its Bethlehem Steel merchandise at a Lehigh Valley location other than the ArtsQuest Center at SteelStacks and Musikfest.
"Bethlehem Steel still means so much to the people in this community, including many of our own employees," says Mike Manlove, Wegmans Bethlehem store manager. "We are proud to support ArtsQuest and bring this merchandise to our customers."
In addition to Bethlehem Steel merchandise, the two organizations will be working together to feature other ArtsQuest brands at the store in 2016, including official Musikfest merchandise when it arrives in the spring. Proceeds from merchandise sales will go to support ArtsQuest's concerts, art exhibits and festivals for the region, more than 65 percent of which are free to attend.
"Our Bethlehem Steel merchandise is our most popular product line with guests visiting SteelStacks," says ArtsQuest Senior Vice President of Marketing and Corporate Partnerships Curt Mosel. "We are thrilled that Wegmans is partnering with us to offer our community this opportunity to own these apparel items and accessories that highlight this industrial icon and our region's rich history.
"Over the past few years, Wegmans has also been a supporter of programs such as Levitt Pavilion fundraising events and our annual Souper Bowl, as well as an advertiser in the 2015 Musikfest Program Book. Our newly-expanded partnership will benefit our nonprofit through not only brand awareness, but also helping to raise funds for our arts and educational programs."
About Wegmans
Wegmans Food Markets, Inc. is an 88-store supermarket chain with stores in New York, Pennsylvania, New Jersey, Virginia, Maryland, and Massachusetts. The family-owned company, founded in 1916, is recognized as an industry leader and innovator. Wegmans has been named one of the '100 Best Companies to Work For' by FORTUNE magazine for eighteen consecutive years. In 2015, Wegmans ranked #7 on the list. The company also ranked #1 for Corporate Reputation, among the 100 'most-visible companies' nationwide in the 2014 Harris Poll Reputation Quotient ® study.
About ArtsQuest
ArtsQuest is a Bethlehem, PA-based nonprofit dedicated to presenting music, arts, festivals, cultural experiences and educational and outreach programs that aid in economic development, urban revitalization and community enrichment. Through festivals such as its flagship event, Musikfest; the Banana Factory arts and education center; and the ArtsQuest Center and SteelStacks arts and cultural campus, ArtsQuest's programming reaches 1.5 million people annually. For more information on ArtsQuest, visit www.artsquest.org, follow on Facebook.com/ArtsQuest and Twitter.com/ArtsQuest or call 610-332-1300.