Volunteer Spotlight – July 2019
Each month, our volunteer committee decides on volunteers to spotlight! For July 2019, George Sobetsky was a clear frontrunner as we turn our attention towards Musikfest.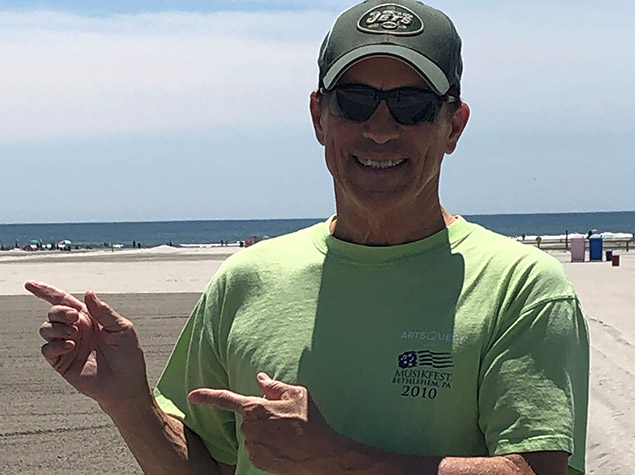 Q: What inspired you to begin volunteering?
A: Actually my neighbor was a volunteer and he told me they were looking for people, especially if you had tools. So my first year as a volunteer I helped build stages and anything else that needed to be built during set-up. When the festival started I literally worked in every volunteer position except base radio, and as they say the rest is history.
Q: How has the Musikfest main stage experience evolved over the years as it changed from Kunstplatz, RiverPlace, and now the Steel Stage?
A: Kunstplatz, will forever be my favorite because of the family feel the audience had with the performers. As the acts got bigger it was necessary to move to a bigger site. Riverplace, with the awesome views of the Lehigh River, was not the ideal site but it served its purpose. Steel Stage is an incredible site, it's basically a little city that just springs up out of nowhere. I must be honest at times I do miss the mud and red stone.
Q: If you could bring one act to Musikfest or some other event, who would they be and why?
A: Paul McCartney without a doubt. I have been and still am to this day a huge Beatle fan.
Q: When you're not volunteering for ArtsQuest, what do you like to do in your spare time?
A: Since I retired it seems I have no spare time. Myself along with my wife Dee are involved with the Star of Bethlehem Festival a non profit organization which is now pretty much a year round commitment, with Musikfest being the exception of course.
Q: What other events and organizations do you volunteer with?
A: The Star of Bethlehem Festival holds three events each May the Star Bar Craft Beer Tasting, the Christmas City Wine Festival and the Star of Bethlehem Festival for Kids. These are the main ones, I also help at Christkindlmarkt, DBA events and basically whoever else asks as long as I am free.
Q: Why do some volunteers call you "Cookie?"
A: Haha, Here is the real story on that, when I was born one of my aunts said I was sweet as a cookie and it just stuck, so there you have it.
**Editors note: We have no idea if this is the real story, but George sure is sweet as a cookie! 😉