THE ICE RINK AT STEELSTACKS TO OPEN NOVEMBER 2022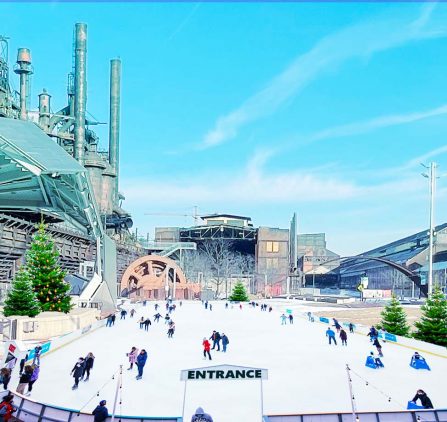 ArtsQuest is thrilled to announce the addition of an authentically-surfaced ice rink on the SteelStacks campus from Thanksgiving week to New Year's Day
BETHLEHEM, Pa. – ArtsQuest is adding a new tradition to Bethlehem's holiday season with an authentic ice rink at the base of the blast furnaces on the SteelStacks campus. The Ice Rink at SteelStacks presented by Lehigh Valley Reilly Children's Hospital, will be open daily, including holidays, beginning Tues., Nov. 22, 2022 through Sun., Jan. 1, 2023.
"Lehigh Valley Reilly Children's Hospital is proud to be the Presenting Sponsor of the Ice Rink at SteelStacks for the 2022 year," Richard Levy, Vice President, Marketing and Public Affairs, Lehigh Valley Health Network said. "As the region's only children's hospital, we are dedicated to keeping the kids in our community out on the ice and helping them get back on it if they ever need care."
In partnership with Rink Management Services Corporation, The Ice Rink at SteelStacks will feature fresh ice maintained throughout the day to deliver an outdoor skating experience like no other across the Lehigh Valley. Throughout the season the rink will be packed with events for all ages, including birthday parties, themed nights, sporting events and more. This new attraction will complement ArtsQuest's beloved Christkindlmarkt Bethlehem, presented by Univest Financial®, which will return for its 30th year beginning Fri., Nov. 18, 2022.
"This rink will add to the magic of the seasonal activities and charm that make Bethlehem the Christmas City and a major tourism destination," Kassie Hilgert, President and CEO of ArtsQuest said. "We thank Lehigh Valley Reilly Children's Hospital for helping to make this vision a reality for the residents of the Lehigh Valley and beyond." For group inquiries, contact Groups@artsquest.org For corporate and community sponsorship opportunities, contact sponsorship@artsquest.org. Individual passes and skate rentals will go on sale after Musikfest. More information will be announced throughout the year and the full calendar of events will be posted on ChristmasCity.org/Skate.
LA PISTA DE HIELO EN STEELSTACKS ABRIRÁ EN NOVIEMBRE DE 2022
ArtsQuest se complace en anunciar la incorporación de una auténtica pista de hielo en el campus de SteelStacks desde la semana de Acción de Gracias hasta el día de Año Nuevo
BETHLEHEM, Pa. – ArtsQuest agregará una nueva tradición a la temporada de fiestas de Bethlehem con una auténtica pista de hielo en los altos hornos del campus de SteelStacks. La pista de hielo en SteelStacks, patrocinada por el hospital Lehigh Valley Reilly Children's Hospital, estará abierta todos los días, incluidos los feriados, desde el martes, 22 de noviembre de 2022 hasta el domingo, 1 de enero de 2023.
"Lehigh Valley Reilly Children's Hospital se enorgullece de ser el patrocinador principal de la pista de hielo en SteelStacks del año 2022″, dijo Richard Levy, vicepresidente de Marketing y Relaciones Públicas de Lehigh Valley Health Network. "Como único hospital infantil de la región, nos comprometemos a mantener a los niños de nuestra comunidad sobre el hielo y a ayudarles a volver a él si alguna vez necesitan atención".
En colaboración con Rink Management Services Corporation, la pista de hielo de SteelStacks contará con hielo fresco que se mantendrá durante todo el día para ofrecer una experiencia de patinaje al aire libre como ninguna otra en todo Lehigh Valley. Durante la temporada, la pista contará con una gran variedad de eventos para todas las edades, como fiestas de cumpleaños, noches temáticas, eventos deportivos y mucho más. Esta nueva atracción complementará el querido Christkindlmarkt Bethlehem de ArtsQuest, presentado por Univest Financial®, que volverá en su 30.º año a partir del viernes, 18 de noviembre de 2022.
"Esta pista de patinaje se sumará a la magia de las actividades estacionales y al encanto que hacen que Bethlehem, la ciudad de la Navidad sea un importante destino turístico", dijo Kassie Hilgert, presidenta y directora general de ArtsQuest. "Agradecemos al Lehigh Valley Reilly Children's Hospital por su ayuda para hacer realidad esta visión para los residentes de Lehigh Valley y de otros lugares". Para consultas sobre grupos, escriba a Groups@artsquest.org. Para oportunidades de patrocinio corporativo y comunitario, escriba a sponsorship@artsquest.org. Los pases individuales se pondrán a la venta después del Musikfest, al igual que el alquiler de patines. Se dará más información a lo largo del año, y el calendario completo de eventos se publicará en ChristmasCity.org/Skate.