THE 7th ANNUAL GLASS BLAST AND ART AUCTION RETURNS TO THE BANANA FACTORY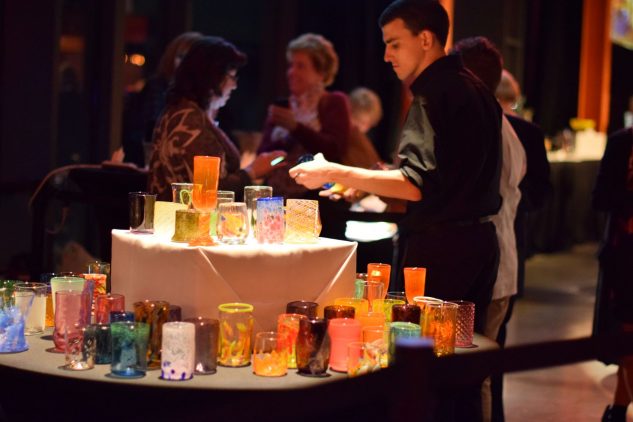 Join glass and arts enthusiasts April 22 in support of ArtsQuest's Visual Arts program
BETHLEHEM, Pa.— ArtsQuest is proud to present the 7th annual Glass Blast and Art Auction. The ArtsQuest Glass Studio, in partnership with Mishka Premium Vodka, invite the community to the party with a purpose on Friday, April 22. Tickets for this one-of-a kind event are now on sale at bananafactory.org.
"This program allows the community to purchase unique works of art made by local artists," Lisa Harms, ArtsQuest's Senior Director of Visual Arts and Education said. "Attendees will be able to view the auction items in our various galleries and artist studios, as well as meet the artists who created them. By supporting local artists, we contribute to the Lehigh Valley's vibrant and diverse artistic community. This fundraiser ensures that ArtsQuest can provide opportunities for artists to live and work in our area, as well as inspire a new generation of artists through our robust arts education programs."
For the first time ever, this event is being held at the Banana Factory Arts Center, ArtsQuest's hub for visual arts and education. Previously held in September, this event was created to support ArtsQuest's Glass and ArtsQuest's Visual Arts programs and the local art community alike. This annual event includes a silent art auction, a raffle, door prizes, glass-blowing demonstrations and Glass Grab, as well as art activities and demonstrations by ArtsQuest's Resident Artists.
The evening's featured Glass Grab offers an opportunity to take home a one-of-a-kind handmade glass piece. By purchasing a Glass Grab ticket, you will gain access to peruse through the section and choose a drinking glass to be yours. The Glass Grab contains more than 300 unique drinking vessels in many different shapes, sizes and colors made by hand at ArtsQuest's Glass Studio. Use the new drinkware throughout the event then take it home at the end of the evening to add a pop of color to your dining room décor. VIP admission tickets for ArtsQuest Members are $90 and $95 for general public include early entry at 6 p.m. and offer access to an exclusive open bar during a VIP Hour. Tickets for Admission + Glass Grab for ArtsQuest Members are $60 and $65 for general public and general admission tickets for ArtsQuest Members are $40 and $45 for the public. Light refreshments as well as a cash bar will be available to all attendees. For more exclusive ticket opportunities, become an ArtsQuest Circle donor today.