Preservation and Reimagination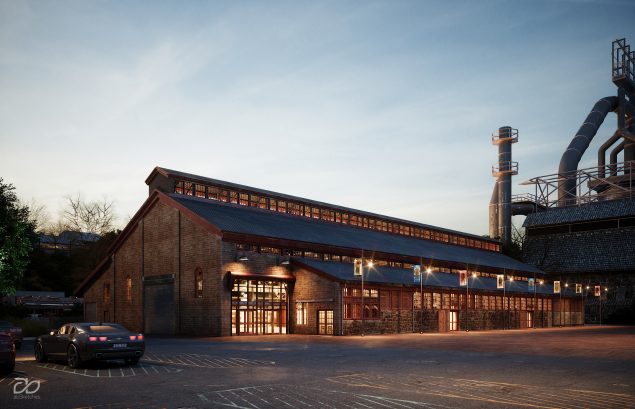 $7 million in state funding to aid ArtsQuest's growth
BETHLEHEM, Pa. – The Pennsylvania Redevelopment Assistance Capitol Program (RACP) awarded $7 million to ArtsQuest for revitalization and preservation of the Turn and Grind, a 150-year-old 26,000-square-foot former Bethlehem Steel building, adjacent to the SteelStacks Visitor Center presented by St. Luke's University Health Network. Work will include a 14,000-square-foot public programming space to feature nationally touring education programs, science- and arts-related exhibits, expansion of ArtsQuest's festivals including Christkindlmarkt, Oktoberfest, Musikfest and more.
"This is a unique building in South Side Bethlehem," said Kassie Hilgert, ArtsQuest President and CEO. "We're extremely thankful that this structure, originally gifted by Sands (now Wind Creek), will be reimagined in a way that preserves our history and allows ArtsQuest to continue our mission of providing unparalleled access to the arts. We're grateful to those in the public sector —including Governor Tom Wolf, State senators Pat Browne and Lisa Boscola, our state representatives, and Bethlehem and Northampton County officials— for not only understanding the importance of our work but recognizing our role in the community's advancement, enrichment, economic development and urban revitalization."
According to Hilgert, Air Products provided an initial $1.5 million pledge, with some of that funding slated for ArtsQuest's planned 80,000-square-foot Cultural Center that will replace the Banana Factory on Third Street. Air Products has a long history of supporting the Lehigh Valley-based nonprofit, serving as title sponsor of its Air Products Town Square and an initial partner for its SteelStacks campus. Northampton County has also pledged $1 million for the new Cultural Center and $1 million for the Turn and Grind.
ArtsQuest is currently relaunching its $66 million capital campaign designed to transform Bethlehem's Southside Arts District and enhance access to the arts regionally. Hilgert explained that the organization is motivated by a need to serve the community's growing diversity.
"These are exciting times for ArtsQuest and the City of Bethlehem," Hilgert said. "We've demonstrated a strong track record of dynamic growth these past four decades, working with the private and public sectors, transforming and strengthening access to the arts in the Lehigh Valley. Replacing the Banana Factory with a new cultural center and revitalizing the former Turn and Grind will aid in the attraction of visitors, artists, businesses and the creative class to the city and region spurring additional economic development and urban revitalization."