Philanthropist Marlene 'Linny' Fowler Celebrated Through Uplifting Glass Figure
ArtsQuest Glass Studio Unveils Linny Award for Inaugural Linny Awards Presentation Nov. 10 at SteelStacks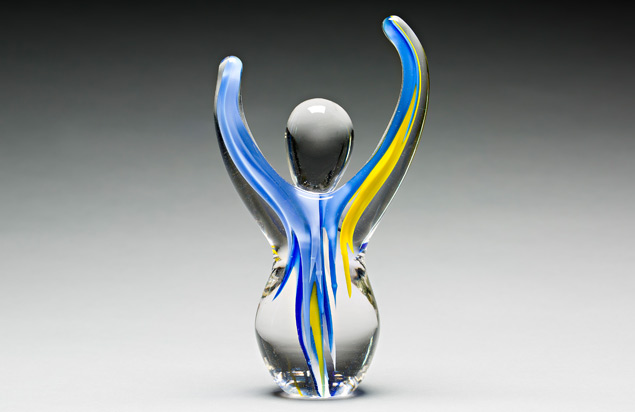 The inaugural Linny Awards on Nov. 10 will honor philanthropist Marlene 'Linny' Fowler and her legacy of supporting dozens of local youth, community and arts organizations through her volunteerism and donations. Awarded to extraordinary artists, arts educators, businesses and philanthropists from the Greater Lehigh Valley, the Linny Awards celebrate those who continue Fowler's mission of promoting and supporting the arts. In recognition of their efforts, all recipients will receive a unique, handcrafted glass sculpture inspired by Fowler. With arms stretched toward the sky and a burst of color in its center, the Linny Award, created by ArtsQuest Glass Studio Lead Gaffer Dan Getz, visually captures the spirit of Fowler, who served on the boards of several arts organizations in the area including Allentown Art Museum, Baum School of Art, State Theatre and ArtsQuest.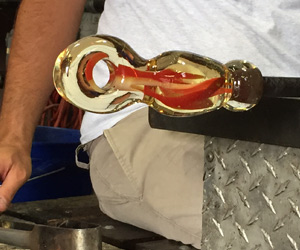 "Linny was a passionate donor who gave so much to our community," says ArtsQuest Hot Glass Studio Manager Dennis Gardner, who oversaw the process of designing and creating the Linny Award. "Creating this award in her honor makes it one of the most special pieces we've worked on, and knowing that this honor is something that will make someone happy as a symbol of their own achievement or service is amazing. It's a piece everyone can be proud of." Coming up with a piece that strongly conveyed the emotion and significance of the Linny Awards was no simple task. The glass studio artists started with 40 possible options in two brainstorming sessions in which they collaborated with ArtsQuest Foundation staff. Getz's design was ultimately selected for its embodiment of Fowler's character and spirit. "Linny Fowler was a stained glass artist and philanthropist who supported artists, arts education and arts organizations throughout the greater Lehigh Valley," says ArtsQuest Foundation Executive Director Jeff Parks. "We know she would be very pleased with this original, blown-glass award representing the achievement of our local artists and the people who support them."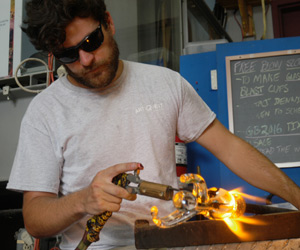 Working at one of the few hot glass studios in the region, the ArtsQuest Glass Studio's artists are often commissioned to create awards, sculptures, installation pieces and decorative and functional glassware. While most of the awards are modeled after templates provided by the glass studio or the client, the Linny Award offered the unique opportunity to utilize the artists' creativity and prototyping skills to create a brand-new award. In addition to creating custom glass art, the ArtsQuest Glass Studio also offers a variety of classes and workshops in glass blowing, glass sculpting, slumping & fusing and more. Since opening in fall 2006, the studio has welcomed thousands of visitors for classes, demonstrations, team building experiences and Make Your Own Glass Art sessions. For information on the glass studio or to commission a work, please contact Dennis Gardner at dgardner@artsquest.org or 610-332-1317. The Linny Awards will be presented Nov. 10, 6 p.m., at the ArtsQuest Center at SteelStacks, 101 Founders Way, Bethlehem, by the ArtsQuest Foundation. The event, which is open to the public, includes cocktail reception, awards ceremony and dinner. All proceeds will benefit the nonprofit foundation, founded by Fowler in 2002 to strengthen the long-term sustainability of ArtsQuest, the nonprofit that presents Musikfest and more than 2,200 other programs, events and educational classes annually.
THE LINNY AWARDS THURSDAY, NOVEMBER 10 MUSIKFEST CAFE PRESENTED BY YUENGLING