Volunteer Spotlight
Each month, our volunteer committee decides on volunteers to spotlight! For October 2019, one couple came to mind when thinking of the Oktoberfest spirit: Mike and Faith Wescoe.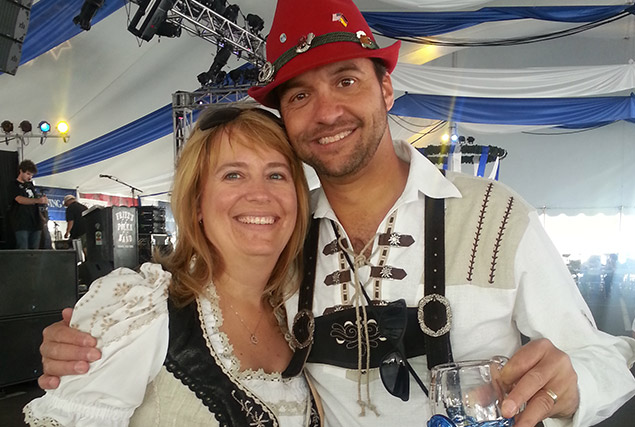 Q: What inspired you to begin volunteering?
A: We have always enjoyed attending Musikfest and feel completely blessed to have such a wonderful event in our home town. When Mike's friends no longer wanted to attend, he started volunteering to stay involved with the festival. Mike got Faith involved in volunteering for the festival after they met. We so enjoy pouring beer at Festplatz and reuniting each year with all of our wonderful volunteer friends.
Q: What's your favorite thing about running in the Oktoberfest 5K?
A: The Oktoberfest 5K gives Mike a reason to run in his Lederhosen and consume a beer prior to noon.
Q: When you're not volunteering for ArtsQuest, what do you like to do in your spare time?
A: We enjoy adventurous traveling such as sailing the Adriatic Sea along the Croatian coast and rafting down the Colorado river through the Grand Canyon. We also enjoy spending time with friends and family, kayaking, sailing, hiking and biking. Mike enjoys running 5K's, half marathons and trail races, while Faith cheers him along. He also enjoys playing golf and rolling the dice at the craps table. Faith enjoys spa days, cooking for friends and family and tending to her vegetable garden.
Q: How did you both meet?
A: Mike was ushering people into the Festplatz beer tent in 2005 when Faith spotted him. When Faith returned to the tent for another libation, Mike was pouring the beer. Faith's best friend handed Mike her digits. A few weeks later we met up at the Bethlehem Brew Works for our first date.
Q: The main question everyone has been waiting for: where did Mike get his lederhosen?
A: Ernst Licht in Oley, PA