May 2021 Volunteer Spotlight
Each month, our volunteer committee decides on volunteers to spotlight! In May 2021, we selected someone who has been a foundational presence with Staging and the Musikfest Café: Ed Rosselle!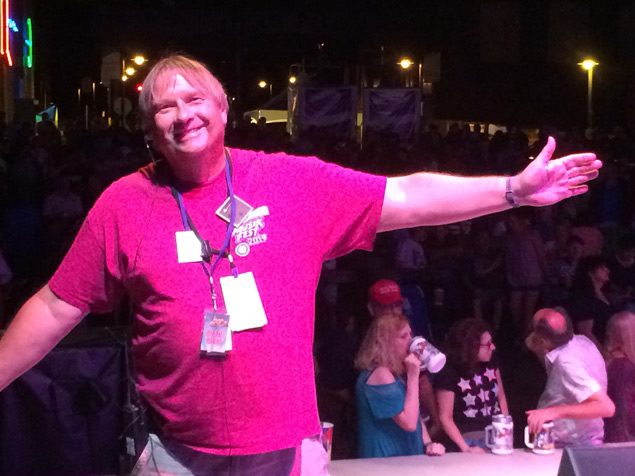 Q: What inspired you to begin volunteering?
A: I was poking around the internet in 2006 looking for tour dates for a favorite band of mine (Train) and saw they were playing at this thing called "Musikfest". Because I was not from the Lehigh Valley I was unaware of this magical experience Being my passion is live music, I saw I could work as a stagehand, so I signed up. Of course once I actually experienced the fest I was hooked!
Q: What is your favorite kind of music? (Big question, I know!)
A: Without doubt rock n roll is the king of my musical castle. If you were coming of age in the 70's and 80's rock ruled the world, and it seems you stay with the music you loved in your formative years. I never actively listened to much else, but as you age you come to appreciate things you did not earlier. I never listened to country, now I do. I shunned hip-hop/rap during its emergence and growth, but now listen to and enjoy it. There are many times when jazz is the right music for the situation. I try to keep up with newer music; I would never say the only good music is old music, there is plenty of great stuff released every week. It is sometimes hard to find amid the cacophony of new music, but it IS there.
Q: Do you volunteer anywhere else besides ArtsQuest?
A: I have volunteered for other music festivals, and some other charitable organizations but non with regularity. When I have, I have found that ArtsQuest seems to know how to do it right; and all the people I work with here are the best.
Q: When you're not volunteering for ArtsQuest, what do you like to do in your spare time?
A: I go to concerts! Obviously the last year was not so good for my ticket stub collection, but was easy on my wallet. Beside concerts I like to golf, go boating, bicycle riding, motorcycle riding, camping, photography. I can sit and just listen to music or watch music videos for hours. I built a listening/viewing room in my basement for just that purpose. I love hanging by the fire with friends, enjoying an adult beverage (with music playing of course). I Love the outdoors and love to travel, especially outside the country. This past year has given me new appreciation for "home time", but I love to get out and about.
Q: If you could pick any act to play at Musikfest, who would you pick and why?
A: Oh man, I have so many "favorite" acts, some of them actually have played here. I would love to see Springsteen, or U2, or someone of that stature, but it will never happen. My choice would have to be my favorite artist, John Mellencamp. He is a sincere genuine, no BS guy that has written many songs that speak to my soul. Many of his songs that are important to me are not the hits you know. Any legacy performer has to play their hits to sell tickets, but it's the deeper cuts I love. He is a superb songwriter. At this stage of his career he would be a good fit, and he would appreciate the legacy of the SteelStacks campus. The programming officer has told me he has tried to book him multiple times, but it just has never worked out. One can only hope!
Q: Can you share any crazy stories from experiences you've had as a Staging Volunteer?
A: The weather always creates a challenge. As a thunderstorm rolled in, and me being a newbie I was panicking running around in the rain trying to get "permission" to shut down the stage (lesson was learned!) At the old Americaplatz the boxer Larry Holmes had a band that played there. Fans wanted me to let them backstage to get an autograph, of course I refused. One fan started yelling at me about who do I think I am, "what, you loser, you probably make $10 an hour!". Finding out that someone was sleeping under the stage at Volksplatz every night was a bit disturbing at first, but it tuned out fine as I knew him!
This was not a question, but I would like to say the quality of the people that work here, both staff and volunteers, are what keep me coming back. I have made so many good friends here that I love like family. Whereas sometimes I see where we could do better, I have found from my experience volunteering elsewhere, and from speaking to the artists, and bands that perform here, the ArtsQuest is the gold standard for putting on these types of events. The SteelStacks campus is truly my happy place. I am very proud to be associated with such an organization and look forward to doing so for as long as I am able.