May 2020 Volunteer Spotlight
Each month, our volunteer committee decides on volunteers to spotlight! For May 2020, we wanted to honor what would have been the start of the Levitt Pavilion season with one our most consistent Levitt volunteers: Todd Dietrich!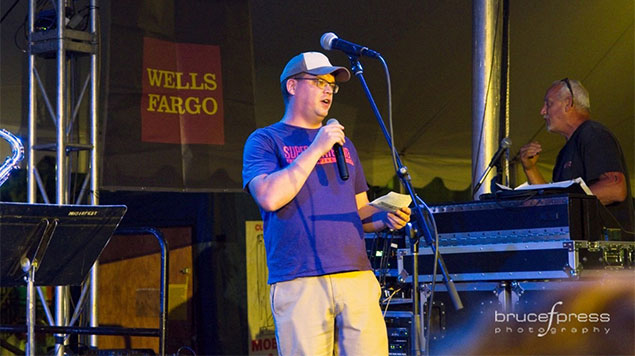 Q: What inspired you to begin volunteering?
A: I was active with a number of student groups when I was a student at Penn State and that carried over into "the real world." I'm not sure what initially made me aware of volunteering with Musikfest, but I started helping with the Green Team (now Banking Brigade) in I think 2011 and I've been back every year since. I learned about the opportunity to help with Levitt Pavilion during the ArtsQuest Ambassador program that I was invited to participate in back in 2017.
Q: What is your favorite thing about the Levitt Pavilion? What makes them different from your usual ArtsQuest show?
A: Levitt shows have a much more relaxed feel to them. We have a lot of regular volunteers and guests, so it feels more like spending an evening with your friends than a formal event. Also, unlike with the Musikfest Café where volunteer spots are swooped up almost instantly, you can always help out at Levitt.
Q: Do you have a favorite night that comes to mind when you look back on all the Levitt shows you volunteered for?
A: The first night that comes to mind is last year when someone chose to climb the blast furnaces. At first I thought it was a joke, but we all know how that turned out. The guests, volunteers, staff, and first responders all did a fantastic job and it really showed how we as a community can come together and do the right thing when we have to. Another night that comes to mind was one of the many nights where we got rained on during the 2017 season. There was lightning. It poured. For a long time. Everyone huddled inside the ArtsQuest Center or in their cars. Instead of packing up their gear and heading home, Low Cut Connie waited for the rain to subside and put on a fantastic show for the fans that chose to stick around.
Q: When you're not volunteering for ArtsQuest, what do you like to do in your spare time?
A: I'm fortunate to volunteer for a few organizations in the community in addition to ArtsQuest. I've also been an automotive enthusiast for as long as I can remember, and a few years ago I rediscovered my passion for vintage video games.
Q: If you could bring any act to Musikfest or Levitt, who would it be and why?
A: It's hard to narrow it down to just one, so here are a few that I'd love to see: Blair Joscelyne, the show would be the best kinds of ridiculous; Koji Kondo, he's one of the most influential composers in my lifetime; Liv Warfield, the power of her performance is incredible; Justin Timberlake, he's unbelievably talented, and if there was a Lonely Island cameo I'd lose my mind; "Weird Al" Yankovic, his career has spanned decades for very good reason, he really has something for everyone. Lastly, if there's ever another comedy night, Charlie Berens, because that guy is hilarious.
Q: You also work as part of the Banking Brigade at Musikfest. How would you describe the festival from that perspective for someone who hasn't volunteered at that position?
A: The Banking Brigade is one way to volunteer at Musikfest behind the scenes. Our main responsibility is to process the money that comes in from food ticket sales. This means we are dealing with a large volume of cash and are stationed in undisclosed locations for security purposes. While it means we're not interacting with guests of the festival during our time volunteering, it also means we don't get rained on, and we have air conditioning! Volunteering with the Banking Brigade isn't for everyone, but we have a great team.