March Volunteer Spotlight 2023
For March, our Volunteer Committee wanted to spotlight a volunteer who has made an impact at many events and is a current Ambassador-in-training: Kacy Rhoton!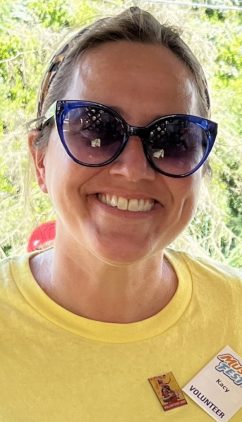 Q: What inspired you to begin volunteering?
A:  A strong desire to give back to the community in which I live.  While volunteering for Musikfest through a work opportunity, I met a fellow volunteer who told me about the usher program.  I signed up and haven't looked back! Meeting great people, seeing fun shows, all while serving the community?  Jackpot!
Q: What is something your fellow volunteers would be surprised to learn about you?    
A: : I appreciate a chat on a good old fashioned telephone.  I'm analog that way and still have my landline!  I will also pay the extra money for paper concert tickets as it's my favorite souvenir.
Q:What do you like to do in your free time when you're not volunteering?
A: I love to read, travel, play golf, and spend time with family, friends, and my cats!
Q: If you could pick any act to play on the main stage at Musikfest, who would you pick and why?  
A: Erykah Badu.  I've loved her music since she first hit the scene in the 90's and still listen to her today.  She's unique, soulful, and has beats you can dance to.
Q: What is your favorite ArtsQuest event to volunteer at and why? 
A: Musikfest is my favorite! There is so much good energy, and I like helping people navigate the fun and have a great experience.