LEVITT PAVILION STEELSTACKS TO HOST 2ND LEVITT PAVILION GOLF TOURNAMENT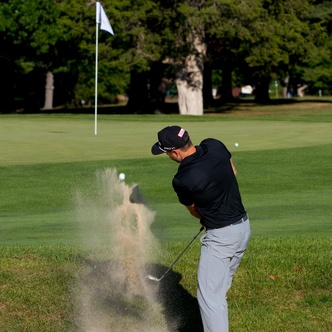 Lehigh Valley Health Network presents annual tournament at Green Pond Golf Club May 16, 2022.
BETHLEHEM, PA – Levitt Pavilion SteelStacks presented by Lehigh Valley Health Network is excited to present the 2nd Annual Levitt Pavilion Golf Tournament hosted by Green Pond Golf Club on Monday, May 16. Registration and sponsorship opportunities are now available. Proceeds from this event go directly to supporting Levitt Pavilion SteelStacks, whose mission is to build community through the power and joy of free, live music.  
"We are excited to once again host this tournament at a great course for a great cause," ArtsQuest's Chief Operating Officer Curt Mosel said. "The outpouring of support throughout the last two years has been amazing to see. So many folks came out last year and supported Levitt Pavilion by participating in the inaugural tournament. Bringing it back this year made perfect sense."
Registration, $225 per participant or $800 per foursome, includes green fees, golf cart, food and beverage, as well as a Levitt Pavilion Golf Swag Bag. The tournament is limited to 36 foursomes. On the day of the event, registration begins at 8:30 a.m. and the shotgun start takes place at 10 a.m. Green Pond Golf Club is located on Farmersville Road in Bethlehem.
"We had such a successful outing last year taking the Levitt Pavilion 'Green Scene' lawn to the 'Green Pond' lawn that we decided to do it again," Tara McBrearty, member of the Friends of Levitt Pavilion SteelStacks Board of Directors said. "This tournament and many of our other fundraising activities enable us to stay true to the Levitt mission of building a diverse community through free live music to support and sustain the 50-free concerts offered per year in Bethlehem. If you joined us last year, we hope to see you back and welcome fresh players. It does not get better than golf, music and community!"
Several sponsorship opportunities are still available to support Levitt Pavilion. Current partners include presenting sponsor Lehigh Valley Health Network, along with Friends of Levitt, Aesthetic Surgery Associates, Colliers Engineering & Design, Dotta Chrysler Jeep, OAA Orthopedic Specialists, Olympus America and Whiting-Turner Contracting.
Sponsorship opportunities include:
Presenting Sponsor: (SOLD)
Golf Cart Sponsor: $3,000
Golf Ball Sponsor: $2,500
Golf Towel Sponsor: (SOLD)
Dinner Sponsor: $2,200
Hole-in-One Sponsor: (SOLD)
Awards Sponsor: (SOLD)
Breakfast Sponsor: (SOLD)
Pot of Gold Sponsor: (SOLD)
Hole Sponsor: $1,200
Tee Sponsor: $250
Prize Sponsor: A donation for raffle
To become a sponsor or learn more about sponsorship opportunities, contact ArtsQuest Senior Director of Corporate Partnerships Nicholas Michael at nmichael@artsquest.org or ArtsQuest Partnership Activation Specialist Patrick Moyer at pmoyer@artsquest.org or visit website: levittsteelstacks.org/golf.