Volunteer Spotlight – June 2019
Each month, our volunteer committee decides on volunteers to spotlight! For June 2019, our Volunteer Committee unanimously chose Jack Schildt as a shining example of someone who gives his all for many of our festivals.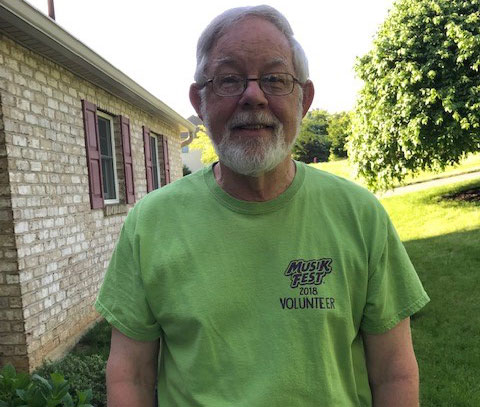 Q: What inspired you to begin volunteering?
A: I grew up in Bethlehem during the prime of the Bethlehem Steel. When the Steel closed I thought that Musikfest was a way of putting life back into our town.
Q: What is the weirdest experience you've had working with food vendors at Musikfest?
A: I have been chairman of the Food Communications for 26 years. One of the strangest things was many years ago we had a food vendor from out of town we placed at Volksplatz. We had to ask them to stop doing dishes and bathing in the creek.
Q: If you could bring one act to Musikfest or some other event, who would they be and why?
A: My wife and I love Chicago, I know they were just here but they are fabulous. They played 215 minutes straight. I'd also like to see Crosby, Stills & Nash at Musikfest.
Q: When you're not volunteering for ArtsQuest, what do you like to do in your spare time?
A: I enjoy time with my wife, 3 daughters and 6 grandchildren. I also volunteer at Grace Church Bethlehem, New Bethany Ministry Victory House, and Monocacy Chapter of Trout Unlimited. I enjoy fishing and shooting at my clubs rifle range.
Q: What is something you look for while evaluating the Booth Judging Contest that many might not expect?
A: We look for uniqueness and originality. We like to see our food vendors put some thought into their booth presentation, and of course, cleanliness.
Q: What is your favorite event to volunteer for?
A: I love Musikfest, for me it's a magical time in town you can feel the excitement in the air. I've met a lot of great people in my 34 years. I have to also say I enjoy Oktoberfest and Brewers Village.