June 2020 Volunteer Spotlight
Each month, our volunteer committee decides on volunteers to spotlight! For June 2020, we wanted to reach out to an amazing duo who can be seen at a variety of different of ArtsQuest events: Tom and Pat Foster!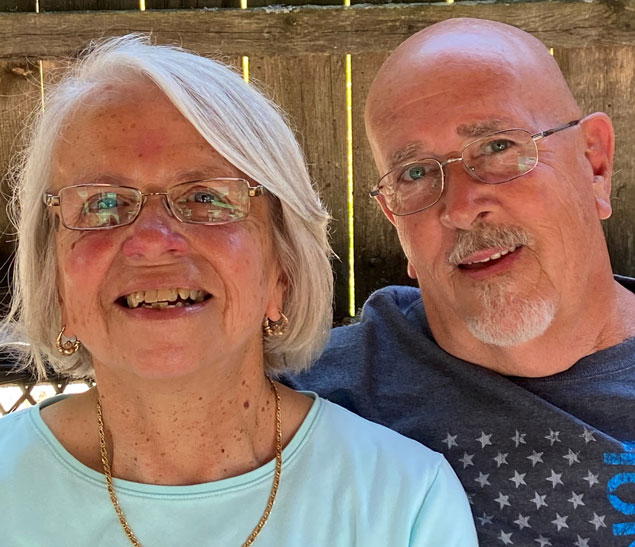 Q: What inspired you to begin volunteering?
A: We were new to the area, our kids were getting ready to leave the nest and it was a way to meet people, and make new friends.
Q: You both are staples at Liederplatz each Musikfest! When did you start volunteering at that platz and what keeps you coming back?
A: We have been there for the past 20 years. During this time, we have met some great volunteers who are now friends, who we look forward to seeing year after year. With these fellow volunteers and their shared longevity, the jobs become second nature to know what needs to be done, and we all pitch in regardless of whose job it is to get it done and have fun doing it. Plus we meet a lot of the same customers year after year and which allow this event to become something we look forward to.
Q: It wouldn't be Christkindlmarkt without the Fosters helping out at Admissions. What is your favorite part about that holiday event?
A: Meeting and greeting people from all over the world, as well as talking, answering questions, and having fun with them. Being able to tout the city of Bethlehem and what the city has to offer a tourist or resident even after the holiday season is over.
Q: When you're not volunteering for ArtsQuest, what do you like to do in your spare time?
A: We are pretty much what you might consider "professional volunteers". We enjoy giving back to the community in which we reside. We both volunteer with Meals on Wheels, and assist with the St. Vincent de Pauls food pantry in Easton, Historic Bethlehem, & Celtic Fest. Pat has her own volunteer obligations such as the Prayer Shawl Ministry, Quilt group, & Catholic Daughters with her church. Tom spends his time with Habitat for Humanity on their core construction team building and rehabbing homes to provide affordable housing. He also volunteers at the Habitat for Humanity Restore.
Q: If you could bring any act to Musikfest, who would it be and why?
A: The MarchForth Marching Band. They are so upbeat & they bring so much enthusiasm with them which is contagious with their audience. The group is almost like a circus that offers a little bit of everything for their audience.
Q: ArtsQuest is a place where volunteers can become friends or even family. Can you talk about the bonds you've created with other volunteers at Liederplatz and Christkindlmarkt?
A: Craig and Donna Bentz, Jeff and Elaine Nelson, Tony and Judy Sabino are some of the fellow volunteers that have become friends outside of Musikfest, and we periodically get together with them for breakfast though out the year. We can't forget the "Bob's" either, as they were a staple at Liederplatz for many Years. We still correspond with them to let them know what's going on with their old volunteer friends.