FIRST-EVER WRESTLING SHOW TO BE PRODUCED AT ARTSQUEST CENTER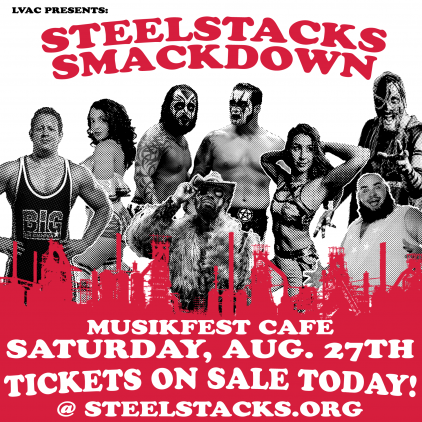 Tickets are now on sale for SteelStacks Smackdown, poetry-burlesque show and live music
BETHLEHEM, Pa. – ArtsQuest is excited to partner with Lehigh Valley Apparel Creations (LVAC) to present the first-ever SteelStacks Smackdown, a wrestling show like no other. This epic event will be hosted in the Musikfest Café presented by Yuengling on Sat., Aug. 27 at 8 p.m., with a meet and greet starting at 6 p.m.  Tickets for ArtsQuest Members are now on sale, while tickets for the general public will go on sale Mon., July 18 at steelstacks.org. For more exclusive ticket access and advance purchase opportunities, become an ArtsQuest Circle donor today. 
Having presented wrestling exhibitions throughout the Lehigh Valley region, LVAC has worked tirelessly to create their biggest live show yet featuring the finest talent from across the independent wrestling scene and television. The seven matches will include colorful characters like Logan Easton Laroux, Boar, Mach 10 and the debut of Little Mean Kathleen in this action-packed event everyone is sure to enjoy! Get your tickets online at SteelStacks.org.
Tickets are still on sale for a variety of live shows.
On Sun., July 17 in the Musikfest Café presented by Yuengling Brett Dennen will perform with opening guest Galen Deery of Mystik Fool. Brennon is from a small town in California and since 2004 has released seven studio albums and is known for hits like "She's Mine" and "Darlin' Do Not Fear."
Tribes & Vibes Presents: Sweetest Taboo, a poetry/burlesque show set for the Fowler Blast Furnace Room, will also be presented on Sun., July 17. The show will feature a two-hour long dialogue about the importance of creating safe places to talk about sex. The show contains explicit content and language. Attendees for this show must be 21 years of age or older.
On Fri., Sept. 23 Broken Arrow- A Tribute to Neil Young will perform in the Musikfest Café presented by Yuengling. Broken Arrow specializes in music by Neil Young and features rockin' electric Crazy Horse tunes and the more acoustic, pedal steel driven country rock material.
Tickets for each show can be purchased at steelstacks.org or the ArtsQuest Center Box Office.