CARS & COFFEE LEHIGH VALLEY RETURNS TO STEELSTACKS CAMPUS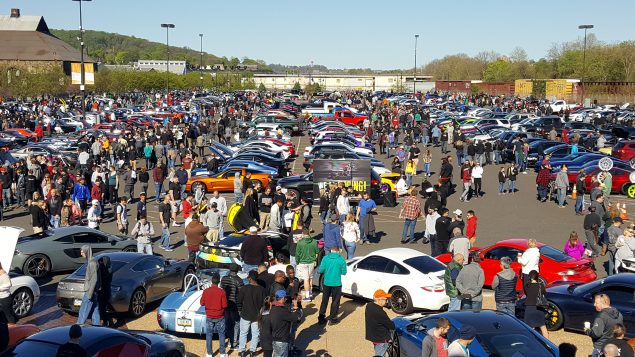 The popular event for car enthusiasts, presented by Koch Automotive Group, returns for its eighth year on Sunday, April 3
BETHLEHEM, Pa.— ArtsQuest is excited to announce the return of Cars & Coffee Lehigh Valley, presented by Koch Automotive Group to the SteelStacks campus from 9 a.m., to noon over the course of five Sundays beginning April 3 through Oct. 16. This event is free and open to the public.
"We are excited to be able to bring Cars & Coffee back to the SteelStacks campus," event co-creator Dan Kendra said. "We are pleased to continue our partnership with ArtsQuest and form a new one with Koch 33 Automotive."
After a year-long hiatus due to the pandemic, SteelStacks campus is revving up for the relaunch of this popular free event. Cars & Coffee invites car and truck enthusiasts from the entire region to join in admiring and marveling at more than 500 vehicles over the course of five Sunday mornings throughout the spring and summer. This year's schedule of events begins on April 3 - Opening Day, May 15, June 26 – to focus on Japanese Sport vehicles, July 17 – to focus on American Muscle, August 28 – to focus on SUV/4X4 and October 16 - Season Finale.
Originally started by local car enthusiasts Dan Kendra and Dr. Johnny Chung, Cars & Coffee was created to bring car collectors together in a fun and relaxed atmosphere to showcase a variety of vehicles including American muscle cars, hot rods, vintage collectables and classic European engineering early Sunday mornings with a hot cup of coffee and conversation at SteelStacks campus. Over the course of this year's Cars & Coffee season, local and regional vendors Koch 33, Beadz Detailing, The Clean Garage, Lehigh Valley Motors, M&W Automotive, Precision Concrete Coatings and Shine Techs will bring their products and expertise to the SteelStacks campus. Coffee, breakfast sandwiches and muffins will be available for purchase at the Mack Truck Stop at the Levitt Pavilion. Visit steelstacks.org for more information.