BSI Corporate Benefits Partners with ArtsQuest to Extend 'ArtsQuest@Home' Programming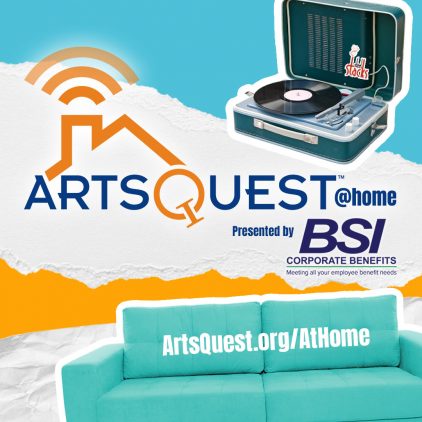 BETHLEHEM, PA—The nonprofit ArtsQuest continues to ramp up its virtual smorgasbord of music, arts and education programming at ArtsQuest@Home thanks to a new partnership with BSI Corporate Benefits of Bethlehem. The ArtsQuest@Home site now includes a rotating schedule of more than 175 events and programs at all times, with more than 300 events and programs featured on the site since its debut last month.
Launched March 20, ArtsQuest@Home includes curated and original programming aggregated by ArtsQuest to offering engaging, entertaining and educational music and art-related content via diverse digital platforms. Live shows by Musikfest and SteelStacks performers streamed from the artists' homes and studios, movie talks with the staff of ArtsQuest's Frank Banko Alehouse Cinemas, livestreamed ArtsQuest Toddler Storytimes, Banana Factory visual arts workshops in artforms as diverse as origami and creating with Play-Doh, and ArtsQuest 'Improvised Standup' comedy programming are among the many highlights.
"BSI is extremely proud to be the presenting sponsor of ArtsQuest@Home. There has never been a more important time for our community to be connected through the arts, and there's no better organization than ArtsQuest to make that happen," says BSI Corporate Benefits Senior Vice President Vicki Doulé. "When their doors needed to close, they re-imagined themselves and not only built a virtual platform, but did it in a way that keeps us connected to ArtsQuest, the artists and each other when we need it the most."
New programs added to ArtsQuest@Home recently include the 48-hour 'At Home Quarantine Film Challenge, which invites the community to make their own short films; Quarantined with Children, a live via Zoom presentation April 28, 9 p.m., featuring comedians who are parents gathering for a delightful and hilarious discussion on being in close confines with loved ones; and the "Dating from Home" comedy game show with comedian Addyson Teal May 2, 8 p.m. The site is also home to a virtual version of ArtsQuest's award-winning ArtSmart afterschool program for students, as well as the popular SteelStacks Lunch Break series featuring live mini-sets performed by area artists.
Upcoming Lunch Break shows include:
Monday, April 27: Nick of Ferdinand the Bull
Tuesday, April 28: George Hrab of Philadelphia Funk Authority
Wednesday, April 29: Karen & Amy of The Beautiful Distortion
Thursday, April 30: The Wild Hymns
Friday, May 1: TIOGA
Monday, May 4: Justin Angelo
"As a community focused arts organization, one of the first things ArtsQuest staff explored when our buildings closed was ways that we could continue to engage and entertain our community, even if audiences could not come together for concerts and films at SteelStacks or arts classes at the Banana Factory," says ArtsQuest Chief Operating Officer Curt Mosel. "The ArtsQuest team is used to adapting on the fly when it comes to programming changes, so we continue to look at different ways to innovatively present content to give residents of the Lehigh Valley and beyond something to look forward to each day during these challenging times.
"The interest in ArtsQuest@Home continues to build with each week, and now, thanks to the support of BSI Corporate Benefits, we can continue to invest in developing original programming in comedy, film, dance, visual arts and music for the community. ArtsQuest thanks BSI and all of our partners who have joined with us as we've rolled out a wide slate of music, arts and educational programming virtually over the past month."
The ArtsQuest@Home page is updated daily, so music and arts enthusiasts are encouraged to stop by regularly. While programming content is free, some programs require advance registration.
The complete list of ArtsQuest@Home programming is available at www.steelstacks.org/athome, or you can check out the programs by category:
• Live Stream Concerts
• Mercy Mondays
• Comedy
• Film
• Visual Arts
• Family & Educational
• Concerts Being Broadcast on SECTV TV2
• ArtsQuest Staff Curated Playlists
• "The Story of Musikfest" Documentary
• The ArtsQuest Games Academy