ArtsQuest@Home: BSI Corporate Benefits Picks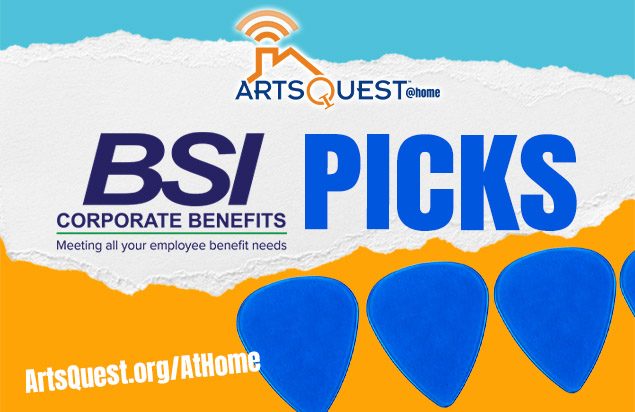 "When we think of arts in our community, we always think of ArtsQuest. They are now providing virtual access to exceptional artistic, cultural and educational experiences. Inspired, BSI is proud to be the presenting sponsor of ArtsQuest@Home."
BSI Corporate Benefits
not only supports the arts, but their employees love the arts! Below, you'll find an ongoing and regularly-updated list of their individual picks of programming from
ArtsQuest@Home presented by BSI Corporate Benefits
!
Picks for Week of June 16
Vicki Doule, Senior Vice President
With the exciting announcement last week that Musikfest will be virtual this year, my top pick this week is the "The Story of Musikfest" Documentary. It will definitely put a smile on your face! There's no better time to remember the rich history that Musikfest brings to our community. It's mentioned in the beginning of the documentary that Musikfest has evolved over the years and that's exactly what's happening this year. I look forward to the community joining me in supporting ArtsQuest and Musikfest this summer!
Tuesday, June 16, 7:30 p.m. – ArstQuest @ Home: SmartsQuest - The Office Theme Game
Get a team together and be sure to register for this one. See how well you know The Office!
Thursday, June 18, 7:30 p.m. – Levitt SteelStacks In Your Living Room live with Yam Haus
I love their songs "The Thrill" and "Groovin" - a perfect vibe for a Levitt show!
Picks for Week of June 8
Tony DaRe, CEO
Wednesday, June 10, 10 p.m. – Pearl Jam
I have seen them all over the US and internationally. I had tickets for their tour in late March that got postponed! We will rock again fellas! Macklemore can clean the guitars for you.
Thursday, June 11, 10 a.m. – The Banana Factory's Toddler Storytime
Special thanks to our good friends and clients at Just Born for hosting. I remember reading the same stories 100 times wondering if they are listening, and then they get older and remember every word. 😊❤️
"Vicki Doule Special" - A tribute pick gifted to our BSI Corporate Benefits SVP and chairman of ArtsQuest Board of Trustees. No one champions the arts like Vicki Doule, I trust she will do my music soul proud with a local Lehigh Valley favorite!
Thanks Tony! I have 2 picks for Thursday night, June 11.
Low Cut Connie at 6 p.m.
: They're an ArtsQuest favorite playing at Levitt and the Musikfest Café. While I can't wait to see their high energy live shows again, Thursday's live stream should not be missed! Keep Thursday night's party going with Levitt in Your Living Room live with
American Dinosaur at 7 p.m.
We wish we could've seen them live at Levitt this summer, but Levitt in Your Living Room is the next best thing!
Picks for Week of June 1
Lynn Zeiner, Account Director
Wednesday, June 3, 8 p.m. – Dave Matthews Band
Dave was basically my high school soundtrack. I love listening to 90's rock, so I can't wait for this!
Thursday, June 4, Noon – Not For Coltrane - SteelStacks Lunch Break
A great singer-songwriter vibe, which are my favorite! Deep, personal lyrics. Don't miss it!
Friday, June 5, 9 p.m. – Quarantunes for Quarantine with Drew Nugent and his "One Man Band"
Ah, big band! Jazz! Multi-talented Drew harkens the sounds of the early '20s. When I listen to Drew, it reminds me how much I miss visiting The Bookstore Speakeasy in South Bethlehem for drinks and live jazz.
Picks for Week of May 25
Val Lewis, Vice President of Employee & Community Engagement
Wednesday, May 27, 8 p.m. – Ryan Montbleau
Ryan is a Villanova University grad, so need we say more about this great musician?! The words in his song "All or Nothing" give me hope during these uncertain times.
Thursday, May 28, 4 p.m. – Norah Jones
I've been a fan of Norah Jones FOREVER! Being the high strung person that I am, I always find a way to relax when listening to her music.
Friday, May 29, 3 p.m. – Tallest Man on Earth
I'm going with the Tallest Man on Earth since I have been less then 5 feet tall my whole life😊. If you are a Bob Dylan fan you will enjoy Tallest Man on Earth.
Picks for Week of May 18
Kyle McLemore, Senior Director of Operations
Tuesday, May 19, 8 p.m. – Stephan Jenkins (Third Eye Blind)
Who doesn't need a little "Semi-Charmed Life" playing to enjoy the beautiful spring weather we're having this week!
Thursday, May 21, 7:30 p.m. – SmartsQuest - Marvel Theme Game
I have 3 boys who think they know more about superheroes than I do. I guess we will finally find out!
Saturday, May 23, 7 p.m. – Ben Folds
This COVID quarantine is a brick and I'm drowning slowly…
Picks for Week of May 11
Shawn Hughes, Senior Vice President
Wednesday, May 13, 8 p.m. – Ed Helms' Whiskey Sour Happy Hour
One of my favorite shows is The Office and who doesn't like the Hangover movies and whiskey, so Ed Helms is a must.
Thursday, May 14, 12 p.m. – SteelStacks Lunch Break with Jimmy of Jimmy & The Parrots
I am not a concert person but I was a Parrot Head for a great night at a Jimmy Buffet concert.
Thursday, May 14, 2:30 p.m. – Brothers Osbourne
It's a country selection for all my fellow country fans and they put on great show at Levitt a few years ago.
Thursday, May 14 – ArtSmart @ Home
Don't miss out on the creative writing workshop with Josh Berk.
Picks for Week of May 4
Nick Tranguch, Vice President of Sales and Acquisitions
Tuesday, May 5, 8 p.m. – 311
Definitely 311! I'm picking this one because my college roommate had their song "All Mixed Up" on repeat in our dorm the entire year. It brings back good memories.
Thursday, May 7, 4 p.m. – Mac Demarco
If you haven't seen one of his music videos, they are a great chance to make yourself feel 100% sane, his music is not nearly as crazy as his music videos.
Friday, May 8, 9:30 p.m. - Improvised Standup with Synced Up
I'm looking forward to Friday night's program with Improvised Standup, a comedy show directed by audience topics. Good Improv is an envious skill!
Saturday, May 9, 8 p.m. - Start Making Sense
Not much better than 80's rock music and this bands cover of Burning Down the House from Talking Heads makes me think of a classic film I first saw as a teenager, Revenge of the Nerds.
Mercy Mondays
Mercy Mondays are a favorite of mine and none better than Monday nights addition with legendary coach and leader, Lou Holtz.
Picks for Week of April 27
By Vicki Doulé, Senior Vice President
I'm going country this week! 😊
Tuesday, April 28, 8 p.m. - Hunter Hayes
He put on a great show at the Musikfest Café a few years ago.
Wednesday, April 29 & Friday, May 1, 8 p.m. - Lukas Nelson
I'm a huge Willie Nelson fan and I'm really enjoying Lukas Nelson's music. He definitely sounds like his dad, but it's current.
Tuesday, April 28, 9 p.m. - Quarantined with Children
I'm also looking forward to Quarantined With Children. I'm sure it will be hilarious!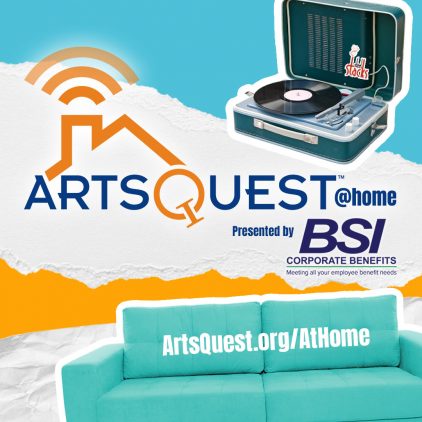 Support our great partner and learn more about BSI Corporate Benefits by CLICKING HERE!