ARTSQUEST PRESENTS ANNUAL 4TH OF JULY CELEBRATION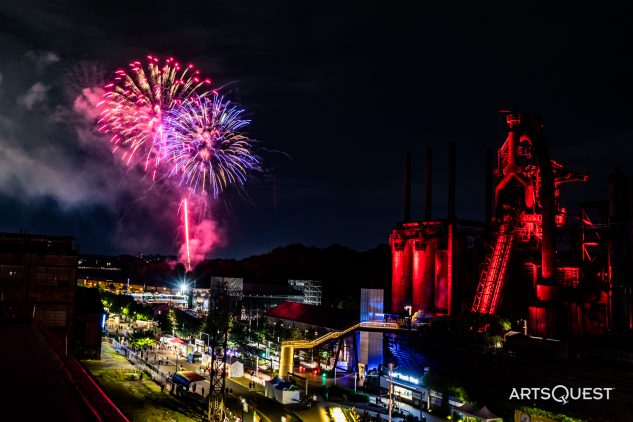 The free 4th of July event features live music and fireworks display
BETHLEHEM, Pa.— ArtsQuest is excited to announce the annual 4th of July celebration presented by Embassy Bank on Mon., July 4. The free Independence Day festivities will include a full afternoon of musical events starting at 3:30 p.m., accompanied by delicious food vendors Bull & Bear and MMG Concessions. This event will be the last chance to view the Hometown Heroes 2022 banner that debuted over 1,500 photos of local military veterans on Memorial Day. The SteelStacks campus serves as the perfect spot to view a dazzling fireworks display put on by the City of Bethlehem at 9 p.m. This event is free and open to the public.
"I can't think of a better way to celebrate the 4th of July than being surrounded by photos of our own Hometown Heroes," said David M. Lobach Jr., Embassy Bank President. "We look forward to enjoying the afternoon at the SteelStacks campus and enjoying great food, live music and the spectacular fireworks."
At 3:30 p.m., Kendal Conrad will begin the festivities on the Highmark Stage. Conrad is a country music singer/songwriter from Pottstown, PA. Her single "Leader of The Pack" has reached over 26 million views online, and she has played with notable country artists across America, including her duet with Keith Urban at Musikfest.
At 5:30 p.m., Band of Brothers will take the beloved sounds of timeless classic rock to the Highmark Stage. Band of Brothers has built a reputation for their high energy and interactive performances all over the Lehigh Valley area.
At 7:30 p.m., The Allentown Band will be performing on the Levitt Stage. Through their high quality and inspirational performances, The Allentown Band honorably preserves the valuable heritage of concert band music in the Lehigh Valley. The band is the oldest civilian concert band in the entire United States.
Closing the night at 9:30 p.m., Big Bone Daddy will be on the Highmark Stage, accompanying Bethlehem's fireworks display. Consisting of Bill DeHart, Ric Carhart, Paul Berger, Ray Higgins, Marc Young, Ken Fink, Stephen Kehs, and Jim Flynn, Big Bone Daddy is a rock & blues band that will rock any club or festival throughout Eastern PA and Western NJ.