ARTSQUEST AND BETHLEHEM SCHOOL DISTRICT LAUNCH VIRTUAL AFTERSCHOOL PROGRAM FOR STUDENTS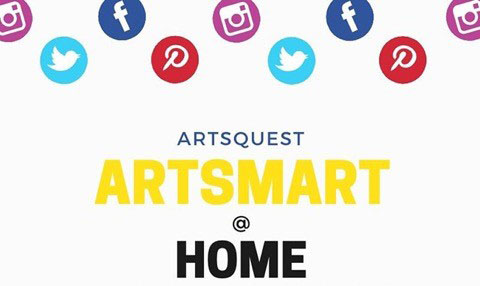 Online version of popular 'ArtSmart' program, made possible by KingSpry, is also open to other school districts in the region
BETHLEHEM, PA--One of Bethlehem Area School District's most popular afterschool education programs is set to resume virtually this week as ArtsQuest offers its ArtSmart afterschool enrichment program via ArtsQuest@Home.
The ArtSmart@Home initiative
, which will offer online programs in visual arts, comedy, dance and literary arts, is also being opened to all area school districts during his time of social distancing and online learning thanks to the support of law firm King, Spry, Herman, Freund & Faul, LLC. Designed for middle and elementary school students, the ArtSmart program at the Banana Factory provides personalized, hands-on instruction in artforms like ceramics, painting, drawing, glassblowing, photography, mosaics, printmaking and fiber arts. Classes, which take place Mondays-Thursdays at the arts center, are led by professional ArtsQuest Teaching Artists, with a focus on complementing what students are learning as part of their school curriculum. ArtSmart, which has been offered for more than 15 years and is the longest running education program between BASD and ArtsQuest, serves more than 500 BASD students annually. As a result of the stay at home order and Commonwealth schools being closed, ArtSmart classes at the Banana Factory ended the week of March 2. However, as BASD started online learning, Broughal Middle School Activities Coordinator Michael Kimmel reached out to ArtsQuest to see if the nonprofit could continue to present its program. ArtsQuest staff responded by developing a new curriculum that featured a combination of virtual versions of its regular ArtSmart programming, as well as new programming like dance. "ArtsQuest, through the ArtSmart program, has been a valuable partner in engaging Broughal's youth throughout the school year," says Kimmel. "Now more than ever, we're relying on community organizations to help us engage our youth to show them that we're still here for them. "ArtSmart@Home will be an important tool in helping us bridge this understanding by continuing to engage their artistic minds and show them that they can still dream and imagine even during difficult times."
ArtSmart@Home Schedule (all programs start at 4:30 p.m.)
Comedy Monday –
This web series focuses on teaching students basic improv skills. ArtsQuest Comedy Coordinator and comedian Addyson Teal, who regularly teaches this popular class, will also present the online version.
Stay Creative Tuesday –
ArtsQuest Visual Arts Manager Elena Ostock offers online tutorials and easy-to-follow lessons for creating unique works of art using materials found in home and yard.
NEW - Keep Moving Wednesday –
ArtsQuest Education Coordinator and dance educator Joanne Garcia teaches basic dance moves to get people up and moving while sheltering at home. Students can learn salsa, merengue, bachata and more.
Creative Writing Thursday (live via Zoom) -
Bethlehem Area Public Library director and author Josh Berk teaches different writing styles and encourages students to try them themselves. "ArtsQuest is committed to providing enrichment opportunities for students in our community in these challenging times," says ArtsQuest Sr. Director of Visual Arts and Education Lisa Harms. "Our goal is to support the tremendous work of the Bethlehem Area School District staff and faculty who have gone above and beyond to facilitate remote learning for all of their students. "Though the spring semester of the ArtSmart afterschool program at the Banana Factory was cut short, we hope that this resource of curated programming will provide parents with a way to engage their children through dance, comedy, art and writing. We're thankful for the support of KingSpry to make this programming possible, and for our partnership with the Bethlehem Area Public Library to offer a Creative Writing class on Thursdays with Director Josh Berk." In addition to ArtSmart programming, ArtsQuest is providing a variety of other music and arts related resources and online programs for area students and families during the stay at home period. These include: • Toddler Storytimes - virtual storytime programs geared toward children ages 18 months to 5 years old. • Educator Resources - a curated a list of art education sites with free scholarly resources for students and parents is available at ArtsQuest@Home. • Digital Exhibitions – ArtsQuest has digitized artwork from its current exhibitions and staff is developing a discussion guide and scavenger hunt for students to embark upon as part of their online learning. The Bethlehem Area School district will be sharing ArtSmart@Home content via its "Community Outreach Group" as part of the Schoology learning management system platform. Thanks to the support of KingSpry, ArtsQuest is also making its ArtSmart programming available to all school districts in the region as a complementary resource while students are learning from home. "With very little forewarning, schools have reinvented what education can do. They have innovated delivery methods, curriculum and connection in inspiring new ways," says John E. Freund, KingSpry Education Law Practice Group Chair and solicitor for several local schools. "We applaud ArtsQuest's commitment to delivering quality educational content and as a community-based business, we are thrilled for the opportunity to be involved." District administrators and/or afterschool programming staff can contact Joanne Garcia at jgarcia@artsquest.org if they are interested in accessing the ArtSmart@Home programs.