April Volunteer Spotlight 2022
Each month, our volunteer committee decides on volunteers to spotlight. For April 2022, we wanted to recognize someone who volunteers in countless different areas, including site supervisor, and is a rising leader here at ArtsQuest: Nick Howe-Bauman!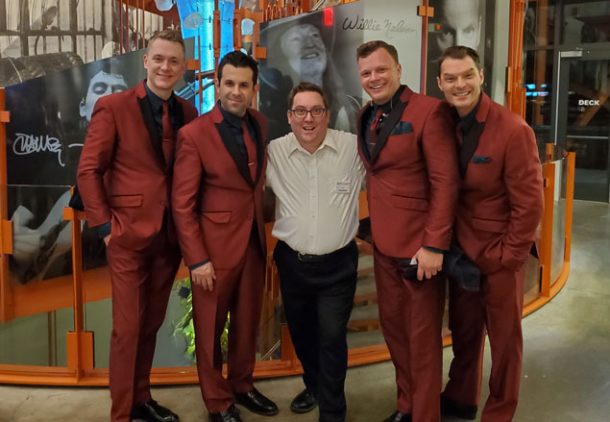 Q: What inspired you to begin volunteering?
A: As an avid lover of music and the arts since I was little kid, I felt what a great way to volunteer for an organization that has a connection for a cause that I strongly support. I started in 2011 volunteering, but because of work schedule I couldn't do much other than Musikfest that year. I came back in 2019 with my husband Drew, he had been unemployed at the time for about a year and was looking for somewhere to start networking and I said let's volunteer for Musikfest. Since then, here I am, I can say 3 years later as volunteering a just about every event I can, and now have become a site supervisor.
Q: What do you do in your free time when you're not volunteering?
A: In my free time most, everyone knows from photos I post on my Facebook page. I love to cook and bake. I'm a hockey fan so I am always routing on my Philadelphia Flyers and Lehigh Valley Phantoms. You can also find me watching every marathon of Law and Order SUV which I would say is one of my favorite shows on television. Most of you probably don't know, I am vocal performer. I am a member of the Northampton Community College Chorus and have been for several years. I keep my passion of vocal performance alive, because I figure was given a gift, why let it go to waste.
Q:What are some goals you'd like to accomplish in the next few years, personally or otherwise?
A: Wow! This question is always a tough one when asked. I would say both personally and professionally and continue to grow my confidence in everything I do not only in my career at Ciocca Dealership but in my personal life as well. To continue to impact people in a positive way to know you can never be too young or too old to do something you love and believe in.
Q:What was your first Musikfest like?
A: My first Musikfest was awesome. I remember volunteering in the ticket booth in Festplatz. A lot of my friends and family said I was crazy but at the time I was working in retail, and I always said if you can survive retail as a job you can survive Muiskfest as a volunteer.
Q: If you could pick any act to play at Musikfest, who would you pick and why?
A: Any act this is a tough one, because I could be here for hours giving you someone I would to see at Musikfest. There are so many amazing artists right now, but I if I would have to pick one I would say Michael Buble.
I have been a fan of since he first hit the scene in 2003. His music and renditions of the hits from some of the greatest music artist of our time, has got be through a lot from the death of my mom, to helping me fight my anxiety. When I am feeling happy or even if I'm a little blue I find myself turning on some of his music and there I am back to normal.
Q: Where's your favorite place you've ever been?
A:My favorite place I have even been I would have to say Bermuda. I am lucky to say that in 2002, I sailed on one of the last cruises of the Pacific Princess aka The Love Boat from New York to Bermuda. What an experience it was to be on my first cruise and to see the amazing island and white sand beaches and crystal clear water for a week.