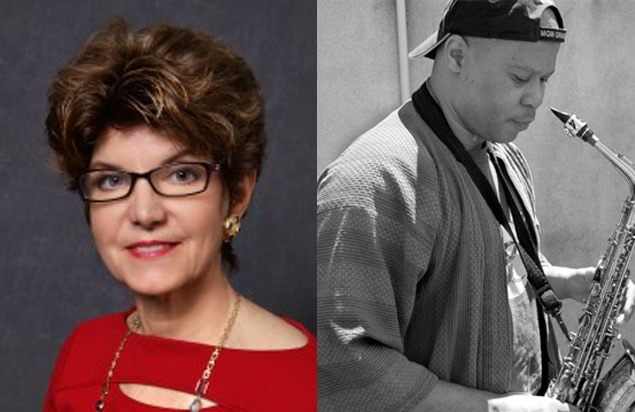 Allentown Attorney Dolores Laputka and Acclaimed Artist Steve Coleman to Receive Lifetime Achievement Awards at 2nd Linny Awards Nov. 9
The ArtsQuest Foundation is pleased to announce that Dolores Laputka, of Norris McLaughlin & Marcus law firm in Allentown, and renowned saxophone player Steve Coleman will be the recipients of Lifetime Achievement Awards at the 2nd-annual Linny Awards. Laputka, who will receive the Lifetime Achievement Volunteer in the Arts Award, and Coleman, who will be presented with the Lifetime Achievement Artist Award, will receive their honors during the Linny Awards celebration Nov. 9, 6 p.m., at the ArtsQuest Center at SteelStacks, 101 Founders Way, Bethlehem.
A longtime volunteer in the Lehigh Valley, Dolores Laputka has been involved with numerous community and arts organizations for nearly two decades. A business/estate/tax attorney, Laputka currently serves as the chairperson of the Board of Trustees for the Allentown Art Museum, and she has been a member of the Museum's Board since 2000. From 2008-'10, she served as chairperson of the Board of Directors, Executive Committee of the United Way of the Greater Lehigh Valley, and assisted United Way in weathering the impact of the worldwide financial crisis. Laputka is also a past chairperson of the Good Shepherd Development Committee, a past president of the Rotary Club of Allentown and chairperson of the Professional Advisory Board to the Lehigh Valley Community Foundation.
A nationally-acclaimed saxophone player, Steve Coleman has been called "the linear heir to the instrument's greats, like Charlie Parker and John Coltrane." In 2000 he received the Herb Alpert Award, and more recently he received one of America's most prestigious awards, a MacArthur Fellowship. He has also received a Guggenheim Fellowship and a Doris Duke Impact and Artists Award.
Along with Parker and Coltrane, Coleman says he was influenced by Sonny Rollins, Von Freeman and Bunky Green. A Chicago native, he hitchhiked at age 22 to New York City, where he studied with several Big Bands. Coleman is one of the founders of the so-called 'M-Base movement,' which he explains means expressing one's life experiences through music, using improvisation and structure.
A resident of Allentown, Coleman has led several groups over the years, including 'Steve Coleman and Five Elements,' which began in 1981 and is still active today. He has performed and recorded with Thad Jones, Sam Rivers, drummer Doug Hammer, Cecil Taylor, Abby Lincoln and Dave Holland. Coleman has traveled around the world to study music, and often incorporates elements from the folkloric music of African Diaspora. He has released nearly 30 solo recorded works and played as a collaborator or sideman on three dozen others.
Named after philanthropist Marlene 'Linny' Fowler, the Linny Awards are designed to celebrate the region's vibrant arts community while honoring Mrs. Fowler's legacy of supporting local youth, community and arts organizations through her volunteerism and donations. Tickets for the Linnys Award ceremony will go on sale later this spring.
"As an artist and philanthropist, Linny Fowler had an immeasurable impact on the arts in our region and the Linny Awards are designed to recognize our thriving arts community, including our talented artists, arts educators, students and supporters of the arts," says ArtsQuest Foundation Executive Director Jeff Parks. "Dolores Laputka and Steve Coleman are two individuals who truly embody the spirit of what these awards are all about – dedication and passion for the arts and our community.
"Dolores has done so much for our region and inspired so many through her tireless volunteerism, particularly at the Allentown Art Museum. Steve has had a tremendous influence on generations of saxophone players, with his spontaneous composition approach to music. We are truly honored to present these two individuals with our second Lifetime Achievement Awards."
The Lifetime Achievement Artist Award and Volunteer in the Arts Award are two of three prestigious lifetime honors (third is Pinnacle of the Arts Award) presented by the ArtsQuest Foundation Board to recognize distinguished individuals from the region for their longtime commitment and dedication to the arts. In addition, the foundation also presents awards in 10 other categories. From now through May 14, nominations are being accepted for visual, literary and performing artists; volunteers; arts educators; and philanthropists who have made significant contributions to the arts through their work. Individuals may also nominate area businesses for their dedication and support of arts and culture in the Lehigh Valley for the Linnys' "Business Supporter of the Arts" awards. The complete list of awards and the submission form are available at www.artsquestfoundation.org/linnyawards.
The 2017 Linny Award recipients will receive their awards at a ceremony on Nov. 9, 6 p.m., in the ArtsQuest Center's Musikfest Café presented by Yuengling. All proceeds from the event will support the nonprofit ArtsQuest Foundation, which was founded in 2002 by Mrs. Fowler. For more information on the ArtsQuest Foundation and the Linny Awards, please visit www.artsquestfoundation.org.