SOUTH SIDE LOFTS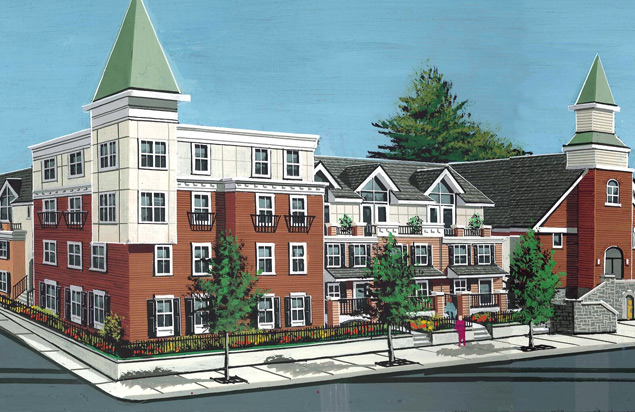 The Housing Development Corporation MidAtlantic (HDC) is a non-profit organization based in Lancaster, Pennsylvania. Their mission is to expand residential opportunities for low-income families, senior citizens and individuals. While the organization maintains over 3,000 housing units in Pennsylvania and Delaware, it was not active in the Lehigh Valley. In 2012, the organization began looking in the Lehigh Valley and found the Banana Factory Arts Center. Because the Department of Housing and Urban Development has a program oriented to providing housing for artists, many of whom qualify for tax credit rent subsidies, HDC was interested in developing its first project oriented to artists. When they found properties just a few blocks from the newly opened SteelStacks Cultural Campus, they knew this was an opportunity.
"Finding the St. Stanislaus property was perfect. We did a market study and found that there was demand for artist housing, " stated Donna Overly Marketing Specialist, of HDC MidAtlantic. The project grew as the former Banko Beverage property a block away on Atlantic Street was added. The final project includes 46 1,2 and 3 bedroom residential units along with community space in the former St. Stanislaus Church. "The community room can be used as a gathering space for exhibits, meetings, workshops and engagement with the neighborhood" added Overly. "We are looking forward to working with ArtsQuest on joint arts and community programs."
The South Side Lofts has added much needed new affordable housing in the community. Opened for occupancy earlier this year, all 46 units are occupied, 19 by artists.
Five of the loft units are set aside for residents with visual and hearing impairments. Six of the loft units are ADA – Handicapped Accessible units. The entire project has adaptively reused a vacant church property, contributed to the vitality of the neighborhood and encouraged greater presence of artists in the South Side.
Residents of the South Side Lofts met with ArtsQuest to talk about their experiences thus far and why they chose to make the move. The organization look forward to building and developing relationships with the artists in residence at the lofts over time.
Linda Bahner is a jewelry designer and Bethlehem resident. Her business, Spirit Artist Jewelry Designs, is what earned her a spot at the South Side Lofts. She attended Moravian College and during that time was able to hear Musikfest occurring in her own backyard. Upon graduation, she moved away but loved Bethlehem, so when the South Side Lofts broke ground and the opportunity presented itself, she made the move. Bahner believes that Bethlehem is an amazing and inspiring opportunity for artists, both established and upcoming, due to all the offerings ArtsQuest and The Banana Factory present. The lofts offer a community feeling for artists in a small area thanks to the community room which can be used by any resident at no cost and the gallery, where residents can display their work.
Another resident of South Side Lofts, Gustavo Penarte, was born in Columbia, raised in New Jersey and has now been residing in Bethlehem for ten years. When he saw the South Side Lofts being constructed, he knew it was time to move out of his father's house. Penarte is an aspiring artist with a passion for photography and drawing. He enjoys photographing industrial architecture, making Bethlehem ideal because of the SteelStacks. He states that the constant urban re-development and programming occurring in the city motivates him to stay. As an up and coming artist, Penarte is most excited about being involved in an artistic community for the first time, and getting to know his neighbors. He hopes that through classes at the Banana Factory and living at South Side Lofts, he will continue to build up pieces for his portfolio.
The South Side Lofts feature geo-thermal heating, a gated parking lot, rooftop courtyard and surveillance. The most awesome amenity for the artists is the community room complete with a kitchen, art gallery and artist workspace. ArtsQuest is excited to welcome the lofts and their residents into the community.