Become an ArtsQuest Volunteer!
Do you love music, art, film, comedy, dance and more? Do you like meeting people who love the arts too?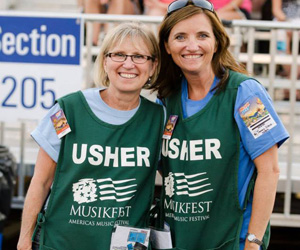 ArtsQuest volunteers have helped provide our shared community with exceptional artistic, cultural and educational experiences since the very beginning. Since the first Musikfest in 1984, over 18,000 individual volunteers have given their time and talent to the organization!
Join the fun. Sign up now!
Some ArtsQuest Volunteer Opportunities:
Taking tickets and greeting movie-goers.
Helping children make crafts and projects.
Keeping festivals and event areas clean.
Setting up and greeting visitors at select private events.
Passing out programs, collecting surveys at free concerts.
Helping to setup and takedown events and festivals.
Selling merchandise at the Stacks Shop and festivals.
Assisting as stagehands during ArtsQuest festivals.
Promoting fun events and giveaways during ArtsQuest festivals.
Collecting tickets, seating guests at the Musikfest Cafe.
Have a question or would like to learn more about volunteering with ArtsQuest? The Volunteer Department would love to hear from you!
Chris Stubbe
Volunteer and Internship Programs Manager
(610) 332-1354 · cstubbe@artsquest.org
Adam Lattimore
Volunteer and Internships Coordinator
(610) 332-1370 · alattimore@artsquest.org
Coryna Barberis
Volunteer Programs Assistant
610-332-1360 · cbarberis@artsquest.org