Become an ArtsQuest Volunteer!
Volunteers are the foundation of ArtsQuest's events and festivals, and our volunteers help provide the community with exceptional artistic, cultural and educational experiences every day. Since the first Musikfest in 1984, volunteers have given countless hours and incredibly valuable skills to the organization.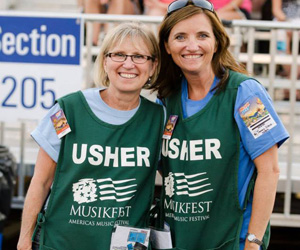 Sign up for the ArtsQuest Volunteer Portal to learn more about volunteering and to sign up for events!
Join the fun. Sign up now!
Some of the ArtsQuest Volunteer Opportunities:
Cinema Attendants – Take tickets and greet movie-goers.
Children's Craft Assistants – Help children make crafts and projects.
Eco Squad – Keep festivals and event areas clean.
Hospitality Assistants – Set up and greet visitors to select private events.
Levitt Pavilion Volunteer – Pass out programs, collect surveys and donations.
Operations Assistants – Help setup and takedown events and festivals.
Retail Assistants – Assist with selling merchandise at the Stacks Shop and festivals.
Stagehands – Setup bands for performances during Musikfest.
Street Team – Promote fun events and giveaways during ArtsQuest festivals.
Ticket Scanners – Scan Tickets, and check wrist banding at events and festivals.
Ushers – Assist seating guests at the Musikfest Café and many other events and festivals.
Have a question or would like to learn more about volunteering with ArtsQuest? The Volunteer Department would love to hear from you!
Courtney Angle
Volunteer and Internship Programs Manager
(610) 332-1354 · cangle@artsquest.org
Adam Lattimore
Volunteer and Internships Coordinator
(610) 332-1370 · alattimore@artsquest.org
Coryna Barberis
Volunteer Programs Assistant
610-332-1360 · cbarberis@artsquest.org