Public Art · The Banana Factory
Mr. Imagination Bus Shelter
World renowned outsider artist Mr. Imagination made his home in Bethlehem, PA for a few years in the early 2000. The bus shelter was created along with help from youth in the Pennsylvania Career Link Program as a job skill training sessions. Youth had to help Mr. I design the shelter and get approval from the client in this case the Northampton Transportation authority. They received hourly pay while learning to take initiative and work as a team to complete the shelter from start to finish. Most of these youth were from the Southside area and see the shelter as a source of pride and a testament to the beloved Mr. Imagination who passed away in 2012.
A Joyful Noise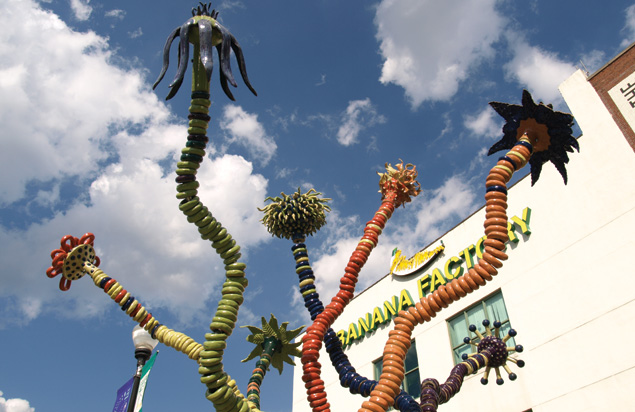 Susan Small made this one of a kind sculpture A Joyful Noise in clay and it has stood the test of time and weather! Amazing in itself, with a hurricane under its belt, the whimsical piece continues to amaze and delight visitors to the Banana Factory.
Homage to Humanity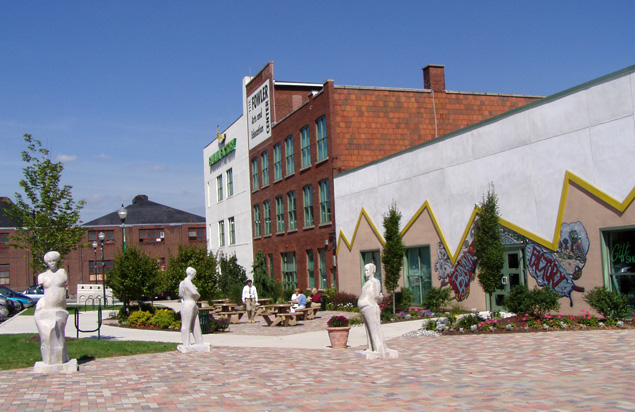 Lehigh County sculptor Karel Mikolas has been named winner of the Banana Factory's Outdoor Sculpture Competition. Mikolas will create "Homage to Humanity," a composition consisting of three larger-than-life concrete figures. His sculpture will be displayed permanently on the southwest corner of the Banana Factory property, 25 W. Third St., Bethlehem, once renovations are completed. The sculpture competition was open to any artist 18 years or older residing within 100 miles of Bethlehem. Mikolas was selected from three finalists who went before a jury earlier this year.
Banana Works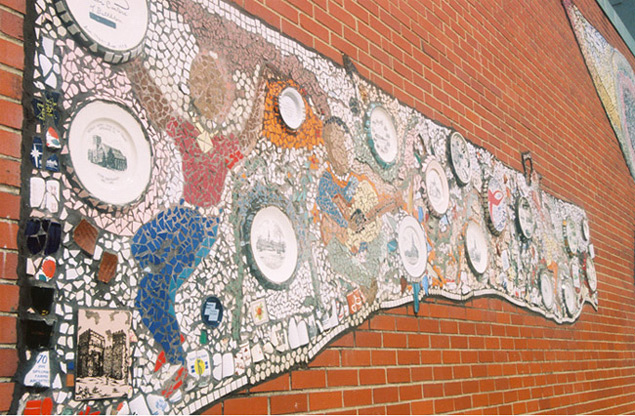 The Banana Factory was a proud partner for more than 13 years in the Banana Works Projects which flourished around the entire Lehigh Valley. A professional artist who specializes in murals mosaics and teaching youth is paired with around 9 youth in a job skills training program run by Pennsylvania Career Link. Often other funders come on board to help with artist instruction time and materials. Some of those funders include Just Born, The Bethlehem Housing Authority and St Luke's hospital. For about 6 weeks the youth learn how to create sketches, present the work to the client and make alterations from that feedback. They then learn to paint or work with mosaics to create a stunning outdoor work of art from start to finish. Skills they learn is working with the team, accepting authority, arrive on time and positive attitude. Most of the youth are from the area in which the work is created and it acts as a source of continued pride for all. Due to a new way of funding the Banana Factory could no longer afford to work with Pennsylvania Career Link but the work lives on.