Interns Wanted!
Here at ArtsQuest, we are looking for creative, energetic, and driven interns who are passionate about the arts, music and education. If you want to be involved in the day-to-day inner workings of a dynamic and entrepreneurial non-profit arts and entertainment organization, work hard and have fun while earning college credit in the process, we want YOU!
Our extensive programming allows our interns the opportunity to participate in some of the biggest events and concerts that come to the Lehigh Valley. The ArtsQuest Internship Program caters to a variety of different majors with opportunities in our marketing, development, performing and visual arts, and volunteer departments.
ArtsQuest interns are given the tools they need to be successful through hands on supervision and mentorship. Aside from accepting full time positions here at ArtsQuest, some of our brightest interns have gone on to further their careers by joining fortune 500 companies, touring with A-list bands, and even starting their own successful companies.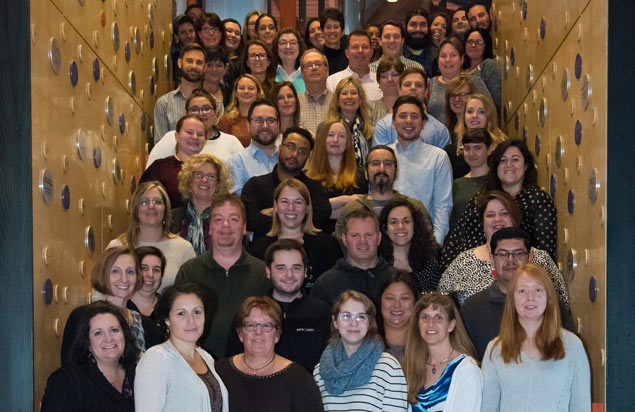 See Why Our Staff Love ArtsQuest
Below you will find everything you need to know about our application and selection process, timelines for the program, as well as detailed descriptions of our internship opportunities.
Internships available at ArtsQuest include programs for the following majors
Advertising
Arts Administration
Art History
Arts Education
Business
Cinema Arts
Communications
Non-Profit Business Management
Psychology/Sociology

Early Childhood Education
Fine Arts
Graphic Design
Human Resources
Illustration
Marketing
Music Management
Performing Arts Management
Music Law
If you do not see your area of study listed above that does not mean that you may not apply. All of our internships are open to students with the right amount of experience and a passion for learning.
Basic Requirements:
All interns must be currently enrolled in a full time undergraduate or graduate degree program.
All interns must be eligible for earning college credit during the semester in which he/she participates in order to qualify for consideration.
Interns are required to work at least 16-24 hours per week or as needed to fulfill credit requirements
Available Internships:
The internships we offer at ArtsQuest can be broken down in three main groups: Arts Education & Administration, Marketing & Public Relations, and Business & Development. Click on the individual internships to learn more about the responsibilities and qualifications for each position. Internships are offered year round unless specifically noted.
Arts Education & Administration
Marketing & Public Relations
Business & Development:
Application Instructions:
Applicants are required to send the following information for consideration to Adam Lattimore, Volunteer and Internship Coordinator at internships@artsquest.org, phone 610-332-1370.
Current résumé
Cover letter stating the following:

Reason for applying for the internship with ArtsQuest.
Which department or area you are interested in.
The necessary requirements for receiving college credit through your educational institution (# of required hours, paperwork completion process, your advisor's name, phone # and e-mail address).
How you expect to benefit from the program.

1-3 Letters of Recommendation from a Student Advisor, Professor or former or current Supervisor regarding your work habits, skills or abilities that might apply to your particular internship (these letters can be emailed separate from the cover letter and resume to Adam Lattimore).
Applications for the Public Relations and Social Media Internships should also include relevant writing samples. If you are applying for the Graphic Design Internship please include a link to your portfolio.
Internship Timelines:
Summer Internships:
Application Deadline: May 1st
Tentative start date: June 1st or earlier based on department needs
End date: Second week of August (students must be available for the duration of Musikfest)
Fall Internships:
Application Deadline: August 15th
Tentative start date: 2nd week of September or earlier based on department needs
End date: 2nd week of December
Spring Internships:
Application Deadline: December 15th
Tentative start date: 3rd week of January or earlier based on department needs
End date: 3rd week of April
Note: internship start dates are subject to change based on school schedules.
Also See: