YUENGLING ANNOUNCES BETTER THAN EZRA AS HEADLINING ACT FOR FREE SUMMER CONCERT TO CELEBRATE 190th ANNIVERSARY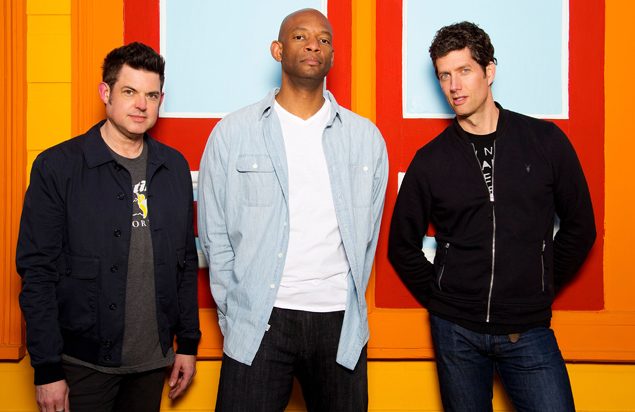 Celebrations Also Included the Official Sealing of the 190th Anniversary Time Capsule
POTTSVILLE, PA., April 18, 2019 – D.G. Yuengling & Son, Inc., celebrated its first-ever America's Oldest Brewery Day, today, at its historic Pottsville brewery. To commemorate the new holiday, which will be observed every April 18, the 6th Generation Yuengling family members – Jen, Wendy, Debbie and Sheryl Yuengling, officially sealed the 190th Anniversary Time Capsule dedicated to future generations. In addition, they announced the fan-favorite American alternative rock band, Better Than Ezra as the headlining act for their free, 190th Anniversary summer concert on July 13, 2019.
Fans near and far joined the 6th Generation both in-person, and via Facebook Live, to witness the celebration of the inaugural America's Oldest Brewery Day and to hear Better Than Ezra announced as the official headlining act for Yuengling's summer July concert. The July summer concert is just one of the many ways America's Oldest Brewery is celebrating its 190th anniversary and showing appreciation for Yuengling fans and the local community. The brewery will welcome fans to Pottsville on July 13 to join the 190th celebration and enjoy free live music as well as food, beer, fun and fireworks. For more information, visit the Yuengling 190th Anniversary Summer Concert Celebration Facebook page, and for up to date information regarding parking, schedule, food vendors and more, follow @PottsvilleCity.
"We are so excited to help America's Oldest Brewery celebrate 190 years of brewing good times," said Tom Drummond, Better Than Ezra bass guitarist. "Yuengling's love for family and their fans is something that aligns with our values as a band and we can't wait to play in Pottsville in honor of such an amazing milestone."
As a part of the day's celebrations, the Yuengling sisters also officially sealed the 190th Anniversary Time Capsule. Erected by the 6th Generation as a gift to future generations, the Time Capsule contains items unique to Yuengling's 190-year story. These items include the 190th commemorative cans that display the rich history of the brewery through iconic eagle imagery, and a signed baseball by Phillies' All-Star pitcher and new Yuengling brand ambassador, Aaron Nola. The Time Capsule also contains special 190th commemorative notes from visitors to the brewery and employees, solidifying their crucial role in Yuengling's 190-year history. The sealed Time Capsule will live in Yuengling's newly modeled Museum for visitors to view during the anniversary celebrations. In the future, America's Oldest Brewery Day will be recognized every April 18 giving fans an official day to rally together to celebrate their favorite Yuengling products and the brand's uniquely rich history.
"As the 6th Generation of the Yuengling family, and as a family business first and foremost, my sisters and I see our generations of loyal employees and fans, both past and present, as an extension of our family," said Wendy Yuengling, 6th generation daughter, D.G. Yuengling & Son, Inc. "We are proud to dedicate this Time Capsule to future generations and future fans on our first America's Oldest Brewery Day. Going forward, we will use April 18 each year as a day to celebrate and remember our rich history of perseverance, and to pay tribute to the hard work of generations of our family and loyal employees."
America's Oldest Brewery will continue their 190th anniversary celebrations all year long. Fans can continue to collect all five limited-edition commemorative Traditional Lager cans, and enter their favorite Yuengling moments via #YuenglingGoodTimes for a chance to win cool prizes including Uber gift cards, UberEats and Stubhub. Additionally, fans can stay tuned for more chances to sample small batches of limited Bourbon Barrel Reserve and even have the chance to win their very own at-home Yuengling Vending Machine by sharing a photo or video showing why they are Yuengling's biggest super fan via #YuenglingSuperfan.
For the latest Yuengling events, announcements and sweepstakes rules, visit Yuengling.com or follow @Yuengling on Facebook, @Yuengling_Beer on Twitter and @YuenglingBeer on Instagram.
About D.G. Yuengling & Son, Inc.
D.G. Yuengling & Son, Inc., America's Oldest Brewery® is based in historic Pottsville PA, and is family-owned and operated since 1829. Now sold in 22 states, production is supported by two breweries in Pottsville, PA and one in Tampa, FL. Principal beer brands include Yuengling® Traditional Lager, Light Lager, Black & Tan, Premium, Light, Dark Brewed Porter, Lord Chesterfield Ale®, Oktoberfest and now Golden Pilsner. Get news, updates and access media images at https://www.yuengling.com/news.
About Better Than Ezra
Better Than Ezra is an American alternative rock band based in New Orleans, Louisiana, and signed to The End Records. The band formed in 1988 in Baton Rouge, Louisiana. The current band consists of Kevin Griffin (vocals and guitar), Tom Drummond (bass guitar), and Michael Jerome (drums). The band has released eight studio albums, most recently 2014's All Together Now. They are best known for their 1993 platinum album Deluxe and the 1995 single "Good," which hit number 1 on the Hot Modern Rocks Tracks charts. Get updates at https://betterthanezra.com.