STEELSTACKS HOSTS JOHNSON AND JOHNSON TEDx EVENT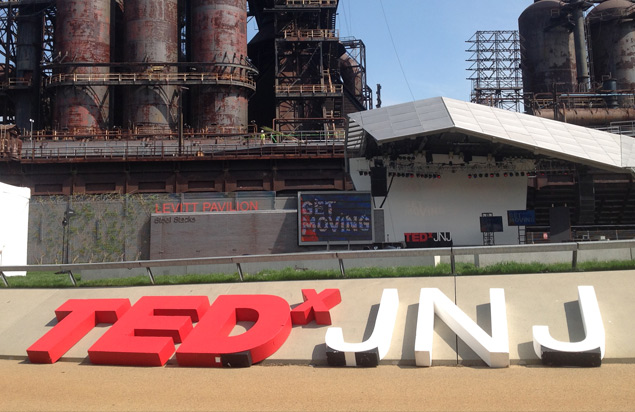 Johnson & Johnson (JNJ on the Dow Jones) is one of the largest health care companies in the world. With headquarters in nearby New Brunswick, New Jersey, the company has employees and manufacturing sites around the globe. Each year the company holds TEDxJNJ at a location that they feel is appropriately suited to foster inspiration. "TEDxJNJ aims to expand our space for ideas at Johnson & Johnson. By amplifying the impact of remarkable ideas and the remarkable people behind those ideas, we hope to spark critical authentic conversation about our shared future." This year they came to SteelStacks with almost 1,000 associates and beamed their discussion to sites on 5 continents.
This major undertaking for the ArtsQuest team began in 2013 when the Susan Drexinger, Vice President of Hospitality was first approached about the possibility of hosting the 2014 version of the event. A JNJ associate had visited SteelStacks and suggested the location. While 2014 did not work out, the team began discussions in earnest for 2015 in September of 2014. The event involved use of the full SteelStacks campus, including the Bethlehem Visitor Center, Levitt Pavilion, PBS 39, Air Products Town Square and ArtsQuest Center. The two day event, Tuesday, May 4 and Wednesday, May 5, was an all hands on deck activity for the ArtsQuest hospitality, production and operations teams and our Aramark partners. High tech communications equipment supplemented the ArtsQuest technology so that the on site guests had instant information and the remote associates had instant access to the presentations.
The Town Square and the Levitt Pavilion became exercise and interactive locations, as well as space for after hours mingling. JNJ even had an photographer artist in residence who took some amazing pictures of the campus.
One of the wonderful aspects of the event was a free to the community preview evening at the Levitt Pavilion on Monday evening, May 3, with Lehigh Valley TED x speakers taking the stage and JNJ staff sharing the Levitt lawn with Lehigh Valley residents.
The entire event brought over 1,000 guests to the Lehigh Valley, filled three local hotels for several nights, and provided much activity for downtown Bethlehem restaurants. The economic impact of TED x JNJ for the region is estimated at over $600,000 but the introduction of SteelStacks and the Lehigh Valley to a global audience of JNJ associates is priceless! The event demonstrated the tremendous capacity of the SteelStacks campus to host special events while providing an unique environment. From Musikfest, to Soccerfest, to St. Luke's Hospital's Night of Heros to TED x JNJ, SteelStacks continues to realize its potential as a cultural and economic resource for the region.