Volunteer Spotlight
Each month, our volunteer committee decides on volunteers to spotlight! For September 2019, we wanted to recognize two of the most positive people anyone can work with: Christopher Dech and Jessica Manjack!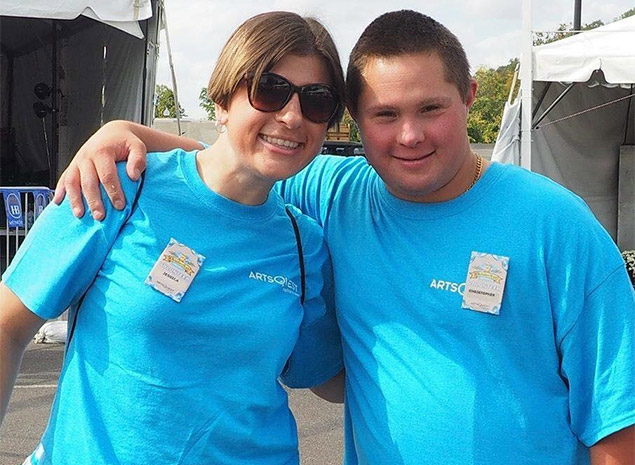 Q: What inspired you to begin volunteering?
A: Jessica began volunteering for ArtsQuest because she wanted to be involved in a local community organization that truly supported the arts within its community. Christopher, along with Jessica both have hearts to serve others and enjoy meeting people, helping others and making new friends.
Q: You often work Eco Squad together at big events like Christkindlmarkt. What's a fun aspect of that position that other volunteers might not have considered before?
A: Christopher, together with Jessica, exude enthusiasm which is contagious. This is a GREAT way to interact with people attending several of the ArtsQuest events throughout the year because you're in the "thick" of it all.
Q: If you could bring one act to Musikfest or some other event, who would they be and why?
A: Jessica: I would love to see Kenny Chesney come to Musikfest! His concerts are one big PARTY and since MUSIKFEST is 10 days of FUN & "PARTYING" with others, he would be a great addition to the WIND CREEK STEEL STAGE!
Q: When you're not volunteering for ArtsQuest, what do you like to do in your spare time?
A: Christopher volunteers everywhere in the community. When not volunteering Chris enjoys bowling, video games, eating out, or hanging out with his friends
B: Jessica teaches ZUMBA classes at a variety of locations throughout the Lehigh Valley as well as AQUA ZUMBA at Steel Fitness Premier in Allentown. If she is not volunteering or teaching fitness class, she is cheering on her favorite sports teams (Philadelphia Phillies & Philadelphia Eagles) but MOST important THE PENN STATE NITTANY LIONS (WE ARE!!!!)
Q: What other events and organizations do you volunteer with?
A: Chris: Meals on Wheel, Mayfair, the local food bank, and assisting with animals
B: Jessica: Mayfair, Autism Speaks, Celtic Classic, and the VIA Marathon and I will help at whatever events I can as long as I am free
Q: Chris—you won the Outstanding Volunteer of the Year Award from Northampton County. Congratulations and thank you for all you do! What was it like to receive that kind of recognition for your hard work?
A: Christopher was elated to be recognized for this award but could not have achieved this honor without the support from Jessica and his home and community habilitation workers through Easter Seals, VIA of the Lehigh Valley, and the ARC of Lehigh & Northampton Counties.