Raise Your Stein and Join Us!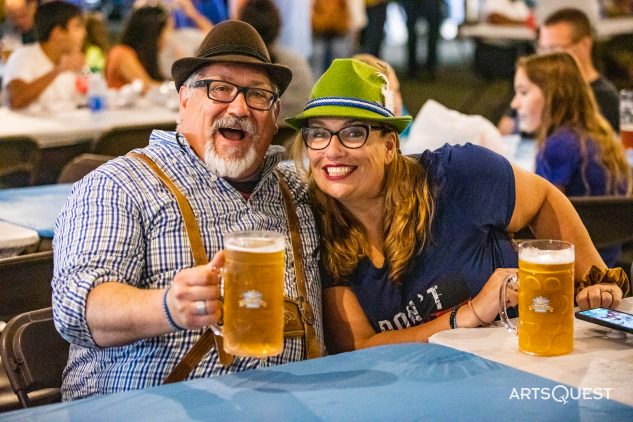 Lehigh Valley International Airport (ABE), ArtsQuest to present 12th annual Oktoberfest
BETHLEHEM, Pa. – Oktoberfest, presented by Lehigh Valley International Airport (ABE), returns to the SteelStacks campus Sept. 30 – Oct. 2 and Oct. 7 – 9, 2022. Now in its 12th year, the festival will once again feature brews, food, live music, local artisans, fan-favorite dachshund dog parades, the Pennsylvania State Steinholding Championship, Dragtoberfest presented by Jack Daniels and so much more!
"The return of Oktoberfest marks the official start of fall, and we're excited to welcome the public back to this popular annual event here at SteelStacks," Kassie Hilgert, President & CEO of ArtsQuest said. "None of this would be possible without the support of our corporate and community partners."
"ABE has developed a strong partnership with ArtsQuest, and we're always excited to support this popular event in the Lehigh Valley," said Thomas R. Stoudt, Executive Director, Lehigh-Northampton Airport Authority. "Oktoberfest creates an enjoyable environment for everyone, as there's plenty of delicious food, music and cultural entertainment that is all free for the community. Your neighborhood airport is ready for the fun to takeoff in early October. We can't wait to see everyone there."
ACTIVITIES
The tail-wagging fun of the Oktoberfest wiener dog parade and dachshund dog races will take place on Saturdays and Sundays throughout the festival in the Oktoberfest Arena located in the PNC Plaza. Dress your short four-legged friend to participate in the free parade. Is your hot-dog the fastest in the Valley? Pre-register your champion for the dachshund dog race in the Oktoberfest Arena. Purebreds, mixes and pups under 35lbs are invited to compete. Mark your calendars for the return of the Yuengling Oktoberfest 5K to the SteelStacks campus this year on Sunday, Oct. 2. Grab a partner and register to play the blown-up version of a popular party game during the Oktoberfest Kong Pong Tourney, presented by Yuengling.
For the second year, Oktoberfest will be the site of the official Pennsylvania State Steinholding Championship, presented by Samuel Adams and produced in partnership with the US Steinholding Association on Sunday, Oct. 9 at 4:30 p.m. To qualify for the state championship, competitors first must post one of the best times during Oktoberfest's opening weekend and follow up on Sunday, Oct. 2 with one of the best times at the semi-finals. Contenders may also attend and post one of the best times at any sanctioned US Steinholding preliminary event. The two strongest people from the Oct. 9 state competition will take home $500 and be invited up to the national steinholding championships.
BEER AND FOOD
Oktoberfest wouldn't be complete without the brews and food. Come sample seasonal craft beers from Yuengling, Hofbräu, Samuel Adams, Dogfish Head and more. Second only to the beer is the seasonal treats from vendor favorites Karl Ehmer, Heidi's Strudel, Foodstuff and Heaven on a Bun to name a few.
Enjoy dishes from Palette & Pour, the full-service bar and quick-service kitchen located on the first floor of the ArtsQuest Center. Festival goers can also shop from a variety of artisan crafters and retailers der Verkäufer (vendors). Back by popular demand after its sold-out debut year, PierogiPalooza returns on both Saturdays! Oktoberfest Brewers' Village presented by The Lehigh Valley Brewers Guild returns for its sixth year. From German-style marzens to autumn-inspired pumpkin ales, the hand-crafted beers of over 33 local and regional award-winning craft breweries take center stage. Guests will enjoy a diverse array of Oktoberfest's limited-edition and seasonal offerings. To order tickets for this special event visit: Oktoberfest Brewers Village.
ENTERTAINMENT
Live music and entertainment will take place on multiple venues throughout the festival. Everyone's favorite Schuhplattler groups will return with their authentic German dance traditions. New to the festival, Allentown-based Matt Ossiander will bring his Cyr Wheel, a large wheel built for eye-popping acrobatic feats. Directed by Elektra Fearce St. James, Dragtoberfest presented by Jack Daniels returns for its sixth year Saturday, Oct. 1 and Saturday, Oct. 8. This show features the best queens from around the Lehigh Valley and Philadelphia areas ready to electrify the festival audience. Grab a mic and join us on Friday nights for Karaoke with Royal from 9 to 11 p.m., in the Oktoberfest Arena.
Oktoberfest and Musikfest alumi Polkadelphia, Fritz's Polka Band and John Stevens Polka Band will return to PNC Plaza. Fresh off Musikfest, groups like The Wonton Soups, Pentley Holmes and DJ Jamal Knight will also perform during Oktoberfest. Don't put those lawn-chairs in storage just yet, live musical performances at the Levitt Pavilion SteelStacks presented by Lehigh Valley Health Network will take place on Friday and Saturday nights. Musical acts will include The Johnny Folsom 4- Ultimate Tribute to Johnny Cash, KC Makes Music & Serg, The Beautiful Distortion and Igor & The Red Elvises. For more details and full schedule visit Steelstacks.org.