October Volunteer Spotlight 2022
Each month, our volunteer committee decides on volunteers to spotlight. For October 2022, we wanted to recognize a volunteer who is a familiar face at the Wind Creek Steel Stage and in the MusikFest Café: Deb Silfies!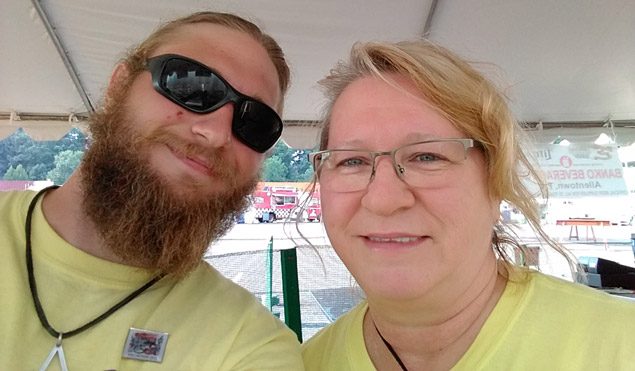 Q: What inspired you to begin volunteering?
A: A company that I used to work for always did one night where a group of coworkers volunteered for the Beer/Wine tent at Wind Creek Steel Stacks. They were short-handed and some former coworkers convinced me to volunteer. Even though I had never tapped a beer before, I found I enjoyed it quite a lot, so I kept doing it. After that, besides volunteering at Musikfest, I started volunteering for other ArtsQuest events.
Q: What is something your fellow volunteers would be surprised to learn about you?
A: I love to read so much that I'm involved with three different book clubs that meet monthly. I'm also doing several different reading challenges that I found on the internet – doing this, checks two boxes for me: books and checking off lists.
Q: Do you volunteer anywhere besides ArtsQuest?
A: I mostly volunteer at ArtsQuest events but last year, a friend and I also volunteered at Celtic Fest. We're doing it again this year.
Q:What is your favorite part of volunteering at MusikFest?
A: Talking with the festival goers. You meet a lot of interesting people.
Q:Other than MusikFest, what is your favorite Lehigh Valley event?
A: In the Lehigh Valley, I enjoy Mayfair, Easton Heritage Day, and Christkindlmarkt. I also enjoy going on hikes with the Wildlands Conservancy's Get Out for Wellness program. Outside the Lehigh Valley, my favorite event is the New York Renaissance Faire in Tuxedo, NY.
Q: If you could pick any act to play at Musikfest, who would you pick and why?
A: : I would love to see Bon Jovi or Def Leppard at Musikfest. They are two bands that I've enjoyed for a long time and have never seen in concert.