MUSIKFEST ANNOUNCES FREE STAGE LINEUP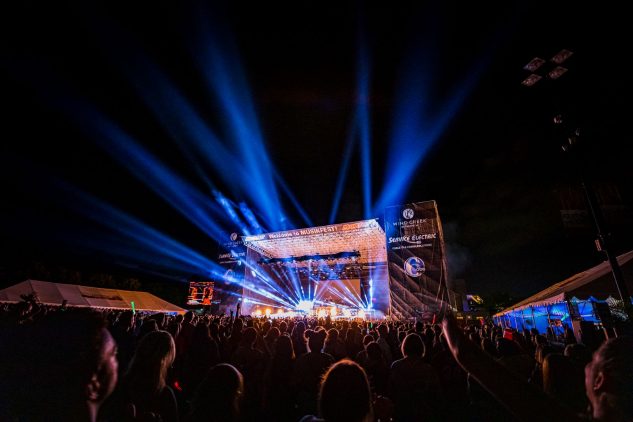 New venue PNC Stadtplatz will host The Clarks, Red Elvises and more
BETHLEHEM, Pa. – As the nation's largest free music festival quickly approaches, Musikfest is excited to announce the Free Stage lineup --including the new northside venue, PNC Stadtplatz.
Each year Musikfest hosts more than 500 musical acts across 16 free stages located throughout the city, including the northside PNC Stadplatz venue hosting a variety of free musical performances, food, and festivities for fans to enjoy! Visit musikfest.org for a complete schedule of free stage acts or download the Musikfest App to stay up to date on all the details for the 2022 'fest!
Southside Highlights
This year's acts for the Air Products Americaplatz at Levitt Pavilion SteelStacks include KC Makes Music on Friday, Aug. 5, Coast 2 Coat and Beha Men on Sunday Aug. 7, JJ Grey & Mofro on Tuesday Aug. 9, We Banjo 3 on Wednesday, Aug. 10, Shovels & Rope on Thursday, Aug. 11, and RDGLDGRN on Saturday Aug. 13.
The Frank Banko Alehouse Cinema, located in the ArtsQuest Center hosts two venues this year. Lutron Jazz Cabaret offers acts for jazz enthusiasts like Acute Inflections on Monday, Aug. 8, at 5:30 p.m. Performing in the Martin Guitar Lyrikplatz are aGirl & aGuy Sunday, Aug.7. The Musikfest Café presented by Yuengling, will host Common Bond on Friday, Aug. 5 at 9:30 p.m.
Northside Highlights
Acts performing at the festival's T-Mobile Plaza Tropical stage include Shamarr Allen on Friday, Aug. 5, and Screaming Females on Sunday, Aug. 7. Enjoy performances at Wells Fargo Festplatz such as Garden State Radio on Friday, Aug. 5. The Aardvarks round-out the weekend with a performance on Saturday, Aug. 6 and Sofa Kings on Sunday, Aug. 7.
While exploring the Provident Bank Main Street make sure to catch Swamp Guard on Friday, Aug. 5 at 8:30 p.m., and Mosey Beat taking the stage at 8:30 p.m. on Thursday, Aug. 11.
Get excited for more free stage performances showcasing the reinvention of past styles with The Youngers, performing at IBEW Local 375 Liederplatz on Friday, Aug. 5. Other popular performers include BC Blue on Friday, Aug. 12 at 9 p.m., and the Dina Hall Band on Saturday, Aug. 13, at 9 p.m.
Don't miss Marielle Kraft on Friday, Aug. 5 at 5:30 p.m., at Guardian Life Insurance Company of America Zinzenplatz.
Musikfest's new stage PNC Stadtplatz, located at Payrow Plaza, will be featuring Igor and the Red Elvises on Friday Aug. 5, Kat Wright on Sunday Aug.7 at 4:30 p.m., Boat House Row on Wednesday Aug. 10 at 8:30 p.m., and The Clarks on Friday Aug. 12 at 8:30 p.m.
To see the complete list of free performers, visit www.musikfest.org/lineup/free/.
Download the Musikfest app presented by PNC Bank to stay up to date throughout the festival. The app will allow you to customize your schedule, access an interactive Musikfest map, emergency weather information, shuttle schedules and best park lot locations and more! The app is available to download at the Apple and Google Play app stores.

Come join us this summer from Aug. 4-14 to kick off 2022's Musikfest with delicious food and great performances for everyone to enjoy and make sure to swing by the many free stages available this year.
Musikfest will take place Aug. 5 – 14, 2022. This year's lineup includes Disturbed, Ja Rule & Ashanti,  Kip Moore, Ziggy Marley – A Live Tribute to His Father, Olga Tañón, Counting Crows, Willie Nelson & Family, Kelsea Ballerini, ALABAMA and Poison. This year's 'Fest includes a preview night on Aug. 4 with headliner Boyz II Men. Visit musikfest.org to view participating vendors and performers. You can also download the free Musikfest app, powered by PNC, from the Apple or Google Play app stores.  Visit musikfest.org for more information. Aside from Musikfest, ArtsQuest provides countless opportunities for the community to enjoy, year-round, including different musical, artistic, cultural and educational experiences on its campus at the SteelStacks and Banana Factory.