July 2021 Volunteer Spotlight
Each month, our volunteer committee decides on volunteers to spotlight! In July 2021 we selected a pair who have been a foundational presence Ushering at the MusikFest Café and as St. Nick's Assistants at Christkindlmarkt: Gerry and Denis Burns!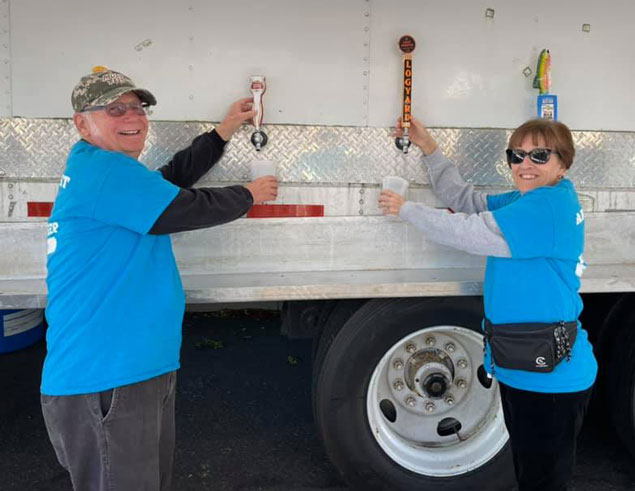 Q: What inspired you to begin volunteering?
A: Gerry: I volunteered at Musikfest years ago when I was employed at Guardian Life Insurance and had a blast. After I retired, I thought it was a good time to get involved and so I signed up with ArtsQuest back in 2017.
Denis: I decided to join Gerry in volunteering since she liked it so much. We've volunteered at the Musikfest Café, Christkindlmarkt (we love being St. Nick's Assistants), Levitt, Sangriafest, Oktoberfest, PeepsFest and Musikfest. We have so much fun helping out and have made so many friends since we started at ArtsQuest! We are proud to be part of such a wonderful organization!
Q: What was your favorite show to Usher at the Musikfest Café?
A: There have been so many great shows at the Café. We've spent a few New Year's Eves volunteering and really like the Sofa Kings. Great Music!!! Another favorite is the Billy Joel tribute shows. Mike Santoro does a wonderful job. Close your eyes and you swear it's Billy Joel! We're big fans of his music.
Q: Do you volunteer anywhere else besides ArtsQuest?
A: Gerry & Denis: We've been volunteering at the State Theatre in Easton for the past 19 years.
Gerry: Volunteered weekly at St. Luke's in Bethlehem and Anderson Campus, but not since the pandemic hit. Also volunteering at St. Luke's Boutique at the Rink which raises funds for Cancer Care.
Q: When you're not volunteering for ArtsQuest, what do you like to do in your spare time?
A: Together we love kayaking, bicycling, hiking, geocaching, road trips, and just being outdoors. We also love the fine arts… live theatre, art galleries and high school theater productions. The Lehigh Valley has so much to offer!
Denis enjoys doing genealogy research, watching all the Star Trek series which he does often with our adult sons.
Gerry enjoys gardening (veggies and flowers), cooking, cake decorating, creating new oil paintings.
Q: If you could pick any act to play at the Musikfest Café, who would you pick and why?
A: Country stars… We saw Carrie Underwood at a festival several years ago. She is such an amazing entertainer. She makes you feel like you're part of her family and not pretentious. She probably wouldn't play a small venue like the café, but any currently recording country singers that we hear on the radio would be great!
Q: What is the best concert you've ever been to? (It's okay if it wasn't at ArtsQuest!)
A: We both love so many types of music. We're big country and rock 'n roll fans. Our first date was at a Glen Campbell concert back in 1968, and one of our favorite concerts was Glen Campbell's Farewell concert in Philadelphia in 2011. Other favs are Ringo and his All-Star Band, Rod Stewart, Big Barrel Country Festival in DE.