July 2020 Volunteer Spotlight
Each month, our volunteer committee decides on volunteers to spotlight! For July 2020, we're highlighting two volunteers we see a lot of at Levitt Pavilion and Musikfest: Roger and Dawn Cressman!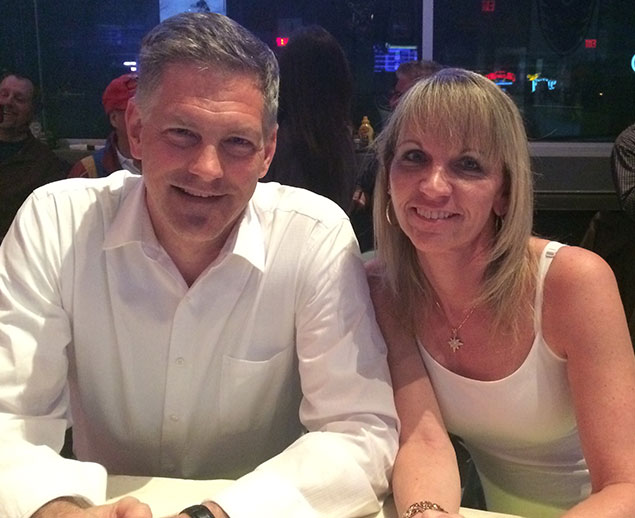 Q: What inspired you to begin volunteering?
A: Roger – I started out at one of the beer tents about 25+ years ago with a group from work. It was the comradery that kept that commitment going for all those years. I was given the opportunity to join the Performing Arts Committee in 2012 and ever since then; I've tried to add new events and roles so that I'm helping throughout the entire year and not just during the summer months.
Dawn – I began volunteering with Roger's work. The company he used to work for would get a team together to tap beer at Musikfest. It was so much fun that I kept doing it and that led to volunteering at several different festivals and concerts.
Q: What do you believe makes Levitt Pavilion shows different from other concerts in the area?
A: Roger – The quality of the artists is second to none. Most venues would be charging $10-$15-$20 per ticket for this caliber of talent.
Dawn – The outdoor venue that is Levitt Pavilion is incomparable to any other. Show after show, the quality and variety of music cannot be matched anywhere else and the atmosphere is incredible. It's one of my favorite places to be, both volunteering and watching from the audience.
Q: You've both volunteered at a variety of ArtsQuest events over the years. Which events are your favorite to volunteer for?
A: Roger – Being a member of the Performing Arts Committee and that commitment is my favorite because I'm allowed to recommend artists to perform at an ArtsQuest venue.
Dawn – It goes without saying that I love Levitt, and although I have a ton of fun volunteering at Musikfest, I really enjoy Christkindlmarkt. I always sign up to be St. Nick's assistant because I love seeing all the people, both young and old, sitting with St. Nick enjoying the holiday season.
Q: When you're not volunteering for ArtsQuest, what do you like to do in your spare time?
A: Roger – We like to go to other types of festivals (okay – wine festivals) but it allows us to scope out the entertainment to see if they are good enough to be considered ArtsQuest material.
Dawn – I love going out to see bands with Roger and friends, have a drink, and dance. I am also a wine lover so I enjoy going to wineries for tastings.
Q: If you could bring any act to Levitt or Musikfest, who would it be and why?
A: Roger – For Musikfest it would be the band "Jet" – a fantastic rock band that didn't get the credit they deserved when they were together!! The band "TOTO" would be a great selection for a ticketed Levitt event because they would sell out and everyone would be singing along with their songs.
Dawn – I am a huge Journey fan so the band I would love to see is a tribute band named "Voyage". The lead singer looks and sounds exactly like Steve Perry and the band is amazing. Believe me, once you see Voyage, no other Journey tribute band will do.
Q: Do you have any specific memories of volunteering with ArtsQuest that you hold dear?
A: Roger – There have been many opportunities to meet the artists who have performed at ArtsQuest over the years and I have become good friends with several of them.
Dawn – I have met so many wonderful people and have so many great memories from volunteering at ArtsQuest that it's hard to choose. I have to say that it is such an honor when people recognize me as a volunteer.