January 2021 Volunteer Spotlight
Each month, our volunteer committee decides on volunteers to spotlight! To start off 2021 the right way, we wanted to focus on a volunteer we grew to count on greatly in 2020: Ed Lorenc!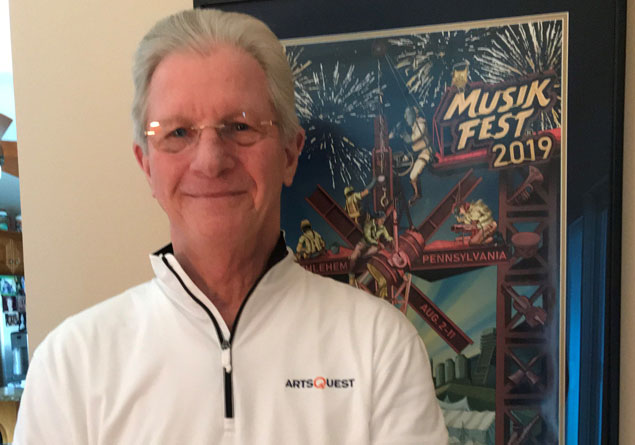 Q: What inspired you to begin volunteering?
A: A friend who volunteers at Musikfest told me about the good times she had there was one factor. The other factor was taking advantage of the Levitt shows and feeling that I'd like to support ArtsQuest in the great things they do for the community.
Q: In 2020, you officially became an ArtsQuest Ambassador and trained to be a Site Supervisor at Virtual Musikfest. What new perspectives do you have on the volunteer program after those milestones?
A: I've gained a new appreciation for all the hard work and dedication by the staff and long-time volunteers. Seeing the bigger picture helps me understand how we all play a role in making ArtsQuest a success.
Q: Do you volunteer anywhere else besides ArtsQuest?
A: I volunteer weekly at St. Luke's Hospital, Bethlehem at the central pharmacy. And I started assisting there at the Covid Vaccine clinic twice a week. Hopefully, that job won't be necessary in the not too distant future.
Q: When you're not volunteering for ArtsQuest, what do you like to do in your spare time?
A: Once the pandemic is over, I plan to resume traveling to see the grandkids and go see more of the USA and the world. I do enjoy reading, taking walks each day, and plan to resume taking gold excursions with my old college roommates.
Q: If you could pick any act for Musikfest, Levitt, or the Musikfest Café, who would you pick and why?
A: I really enjoy the tribute bands "Tusk" and "Beginnings." I'm a big fan of Fleetwood Mac and Chicago and I think they do a great job.
Q: If 2021 brings a return to normalcy, what do you most look forward to about a world where Covid-19 is in the past?
A: I look forward to Musikfest returning to normal. The whole atmosphere of it and interacting with the people there just makes for a great experience. I also look forward to shaking hands, and even sharing a hug, again with the great people I'm lucky enough to work with.