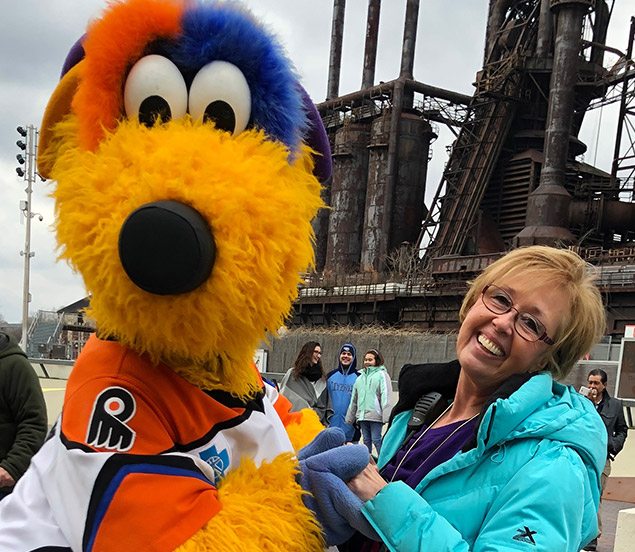 January 2020 Volunteer Committee Spotlight
Our Volunteer Committee is made up of some of the strongest leaders within our volunteer program. This committee helps the volunteer staff make decisions, bring feedback about events, and create new ways of making procedure better for the future. We'd love for you to get to know these leaders, so each month we'll spotlight one of the members on our committee. For January, we'll start with our newly elected Committee Chair: Ronda Senior!
Q: What inspired you to begin volunteering?
A: After moving here from NJ in 2009, where I was very involved in the community, I found myself needing something to do. I loved Bethlehem and found the history so interesting and after seeing a advertisement for volunteering at SteelStacks, I signed up! My first event was set up for Christkindlmarkt where I met Amanda and Jason from Operations. They were so kind and welcoming that I never looked back! I love the people I meet, I adore the volunteers I work with and I truly have become a Bethlehem history buff! I love this City and more importantly, I love ArtsQuest and its Mission! I get far more back from volunteering than I could ever give.
Q: How did you come to join the Volunteer Committee?
A: I had been volunteering quite a lot and actually was working on a Customer Service project for AQ when Hillary Harper, volunteer coordinator at the time, thought I'd might be interested in joining as it might help with the project. I found the committee to be filled with some great experienced volunteers and some were from the original Musikfest days, how exciting! The committee has taught me a lot about the organization and I really believe we work for the betterment of AQ and are great advocates for the volunteer base.
Q: You're a recognizable face at most of our events—which events are your favorite to volunteer for?
A: I really can't pick just one. I love Musikfest because it reaches so many people from so many different parts of the country and it's a ten day long Party but on the other side, I love Christkindlmarkt because it's the most beautiful time of the year and it's a great opportunity to talk about and show off the Christmas city to so many visitors. I love PEEPSFEST because of all the children we bring together for this special event and after all, they are our future AQ members and volunteers! SangriaFest and Oktoberfest are just plain fun for all! There are so many great festivals from the Lehigh Valley Clay shoot to Soccerfest and Souper Bowl that I really can't tell you that there's one I like more than the other, I just enjoy all of them. I can truthfully say that the MAIN reason I like any of the festivals is because of my fellow volunteers, they are a great group of people and I'm proud to be amongst them.
Q: When you're not volunteering for ArtsQuest, what do you like to do in your spare time?
A: I volunteer at Zoellner and other places in the LV and I have a love for Broadway plays. I enjoy reading, crafting, needlework and most importantly, I love spending time with my husband, daughter and our three fur Babies! Rescue Animals are my passion!
Q: If you could bring any artist to Musikfest, who would it be and why?
A: Bruno Mars, he is a "get off your butts and dance" kind of musician and I find his music uplifting and fun. Any music that makes my feet move and my heart smile is my favorite.
Q: What do you enjoy most about serving on the Volunteer Committee?
A: I love that the ideas and suggestions brought forth by the members of the committee on behalf of the volunteer base, are actually heard and result in making things better for volunteers, patrons and the organization. The volunteers have a voice and I hope in 2020, as the committee members are all recognized that the volunteers reach out and meet them and understand that we are there as their liaison and as their Voice.
Q: Being an ArtsQuest Volunteer, you are given the opportunity to apply for the ambassador program. As you are one of AQ Ambassadors, why do you feel this program is so important?
A: Being an ArtsQuest Volunteer ambassador is important because we are given the knowledge and information to go forward and teach others. As an ambassador, I feel our role is to "sell" the AQ mission and solicit new donors, patrons and volunteers. The ArtsQuest organization has contributed to the Bethlehem community in many more ways than most people know and as an ambassador, I can help get the information out there by speaking about these programs and events. The Ambassador program is supported by all departments at AQ and getting to meet and learn from the people who make this all happen is an opportunity no volunteer should miss.