Greetings from Musikfest!
Longtime Volunteers Eileen and Bruno Goldschmidt Share Their Musikfest Memories
By Emily Cummins, Public Relations Coordinator / Photo: Craig Roberts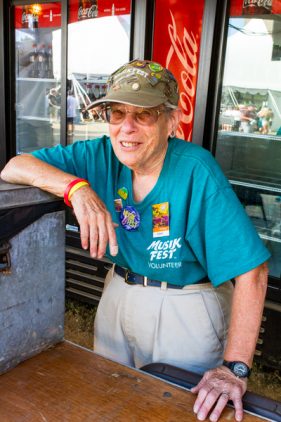 For Eileen and Bruno Goldschmidt,
Musikfest
is a way of life. The Stratford, Conn. couple has been volunteering since 1995, and at 74 and 83 years-old respectively they don't feel like stopping any time soon. Bruno, a retired science teacher and Army veteran, was born in Germany and immigrated to New York as his family escaped the Holocaust, while Eileen is a retired nurse, originally from Massachusetts. Both widowed at a young age and were later set up by friends. The spark was instant, and they've been married for 44 years, having attended Musikfest for nearly three decades. "We began going to Musikfest in 1988 with friends from Massachusetts," Eileen says. "Every year for seven years we'd camp, and we'd go to Musikfest." "At a certain point we knew it was time to give back, and we've basically been volunteering ever since," Bruno says. Making each summer more memorable than the last, Eileen and Bruno have travelled the United States each year in an RV, with Musikfest as their final destination. "Our trips have been anywhere from five to 11 months, and typically, we venture west," Bruno says. What makes camping special? The Goldschmidts say it's a way to wander off the beaten path. "You make your own arrangements, escape the main highways and you meet a lot of nice people camping," Bruno says. "We're like the snail; we have our home on our back." In addition to social activities like campfires, barbecues and dances, the couple keeps busy with even more volunteering. Last year, they volunteered at 15, out of 29 combined, spring training games in Arizona for the San Diego Padres and Seattle Mariners. As EMT volunteers, the pair also trades patches for service as they travel, having acquired more than 500 over the years, and Eileen collects pins from city halls. "I easily have 300 pins," she says. "It's not your regular 'tourist' type of travel," Bruno says, boasting that they once visited a fire department in Oklahoma, volunteering where they could. On their second visit out there, Eileen and Bruno were given "the royal treatment" with a special invitation to a rodeo, dinner and a parade.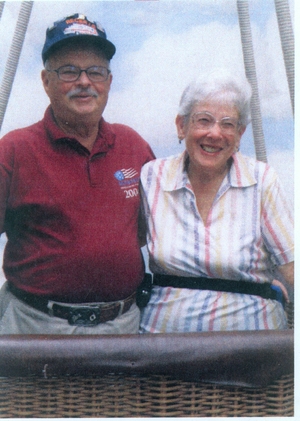 While the couple has visited every state, they are hesitant to name a favorite. "Every state has its own attributes, and you can spend months in one state just trying to see everything," Eileen says, admitting they still haven't seen every part of their home state. But when they visit the Lehigh Valley, it's all about Musikfest. "More than the entertainment value, we volunteer at Musikfest for the friendships," Bruno says. "There are
more than 1,800 people each year who volunteer
their time and talents at Musikfest," says ArtsQuest Volunteer and Internships Manager Chris Stubbe. "While most of these individuals are from the region, every year we have volunteers who make the trip from 9 or 10 different states to lend a hand. In fact, we've had volunteers from as far away as England and Germany in the past. They all have one thing in common – they really enjoy the unique experience at the festival and they love reconnecting with family and friends." Eileen got her start on the Clean Team, now called Eco-Squad, while Bruno tapped beer at Liederplatz. Now he handles communications like emergency calls and staff radios, and Eileen works with the Street Team passing out freebies to 'festers. "I really enjoy working with the interns and school kids; they make me feel young!" she says. About three years ago, the couple thought it would be their last year volunteering, considering their age and the age of their motor home, but Bruno says they couldn't give it up. "We figured out a way to do it. The other volunteers are great to me, and don't really let me pick anything up or carry anything. Then there's people like Ray Neeb (ArtsQuest's Vice President of Facilities and Festivals Management) who is very good to me and cares about my well-being… Volunteering is something we love doing and we will try to do it as long as we can. The motivation behind that, is the entertainment is free and open to the public. We've been amazed by that since day one, and when you come here you only spend what you want to spend." Sharing their favorite parts of the festival, Eileen and Bruno recommend Leiderplatz and Volksplatz for laid back music and Festplatz for songs to dance to. As for food, they suggest Foodstuff's potato pancakes and Bethelem Dairy Store's apple dumplings. "Our favorite memories involve getting to know musicians on a personal level," Bruno says. "We met Artisan, the a cappella trio, at Musikfest and then we started going to their other shows. They did a lot of call and response songs with the audience; it was a lot of fun." As the couple gets older, they've decided to change their nomadic ways, and for the first time in years Bruno and Eileen are spending their summer at home, but there's no way they are skipping Musikfest. "We'll be staying with other
volunteers
! We wouldn't miss it for the world," Eileen says.
Become an ArtsQuest Volunteer!
Volunteers are the foundation of ArtsQuest's events and festivals, and our volunteers help provide the community with exceptional artistic, cultural and educational experiences every day. Since the first Musikfest in 1984, volunteers have given countless hours and incredibly valuable skills to the organization.