From Stage to Steel Town
Story of Sam and Gina Masotto of 'Tony n' Tina's Wedding' Highlights Impact of the Arts on Economic Development in Bethlehem
By Mark Demko, Senior Director of Communications
When Sam and Gina Masotto first stepped foot in Bethlehem in the winter of 2012, they were surprised by what they discovered.
Living in the Big Apple at the time, the husband-and-wife duo were the stars of Tony n' Tina's Wedding, the longest-running Off-Broadway show in history, which was making its premiere at the ArtsQuest Center at SteelStacks. While the couple didn't expect they'd be visiting a rundown steel town, they also didn't anticipate finding anything that resembled the mix of arts, culture and dining establishments they found in some of the larger cities in which they performed.
"I was happy that something (like this) outside New York City was so amazing," says Gina, who played the energetic and loveable bride, Tina. "I was like, 'Wow, we don't have to sit in traffic' and 'It's a wonderful place.' We're happy to be here and still be exposed to art; it's a really big deal to us."
An assistant brewer at Newburgh Brewing Company in Newburgh, N.Y., Sam was looking to open up his own microbrewery, a career move that had them considering New Jersey, New York and other locations on the East Coast.
"Gina and I were really considering three places and this was one of them," he recalls. "It was a working class, really huge-potential area that had already sort of come up (on our radar) and just seemed like it needed a little brewery like this. We came through, we were in love with the SouthSide here and that was it."
Masotto, who played the groom, Tony, in Tony n' Tina's, says SteelStacks factored heavily into the couple's decision to settle in south Bethlehem.
"It was a big part of our business plan and a huge consideration for Gina and me to move here," he says.
"It was Bethlehem or bust, and then it really became SouthSide or bust.
"We were really, really looking for property on this side of town, with ArtsQuest being a big part of that because it brings people here (all the time), not just during Musikfest, Oktoberfest and Christkindlmarkt."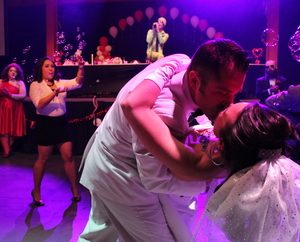 Launching the Dream
In late July 2016, after more than 18 months of planning, the Masottos launched their new Bonn Place Brewing Company, located on Taylor Street, only a few blocks from SteelStacks. Although they didn't have the building 100-percent finished, they decided to open in the days leading up to Musikfest to try and take advantage of the potential crowds that might come with the festival.
"There was absolutely a bump…," Sam says. "I'd be curious to see what this year is like; I'd also be curious to see if we could make enough beer to sustain that (crowd), because last year was pretty crazy in here and we had just opened."
While Bonn's welcoming atmosphere and unique beer selections are undoubtedly a huge draw, the microbrewery is just one example of how the city's SouthSide has really started to flourish in recent years thanks, in large part, to the vibrant cultural scene. In addition to the Masottos' bar, other new businesses and buildings that have taken hold in the neighborhoods adjacent to SteelStacks include the Social Still, a distillery that was the first project completed on the SouthSide as part of the City Revitalization & Improvement Zone; the new Lehigh Valley Charter High School for the Arts; and St. Stanislaus, an artists' housing development that opened in 2014 and now has a waiting list for artists.
"The impact SteelStacks has had on tourism and economic development has been
very noticeable," says Bethlehem Mayor Robert Donchez. "The number of people visiting the campus on an annual basis has grown, and the number and types of events and programs speaks volumes.
"The World Cup Soccer viewing events – both men's and women's – drew thousands, as did the viewing of the Papal visit to Philadelphia. The setting also made it the perfect place for the City to hold its 275th community celebration."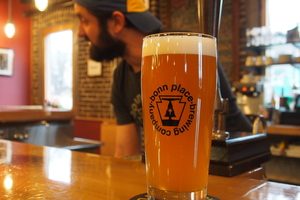 A Bright Future
While South Bethlehem has seen strong growth over the past few years, the transformation of the SouthSide doesn't look to be ending anytime soon. Other projects that have recently gotten underway include the Greenway Commons apartments on Third Street, as well as the Greenway Park building at Third and New streets, which will include retail space, St. Luke's University Health Network medical offices and Lehigh University advancement offices.
"Studies by Americans for the Arts have shown that the arts generate more than $135 billion in economic activity across the nation every year," says ArtsQuest President and CEO Kassie Hilgert. "As a community-based arts and cultural organization, we have long focused on using music and art to help spur economic development, promote tourism and draw people to the city's downtowns.
"The growth on the SouthSide in recent years has really helped to highlight the businesses and restaurants that are there, as well as shine the spotlight on our emerging arts district. It's also having a very positive impact on area artists, providing new opportunities for them to support their livelihood through launching businesses and opening studios. The investment that the city, the county and so many others have made in South Bethlehem over the years is truly paying huge dividends for everyone."
John Brown, the county executive for Northampton County, says the creative and financial labors that helped to build SteelStacks have made it an important economic engine and a valued community resource.
"So much time and talent has come together to attract more visitors to our county for longer stays, which supports the local economies of the many municipalities surrounding the area," Brown says. "It is providing more numerous and interesting entertainment opportunities for county residents and for our neighbors in the region, making the arts and entertainment aspects of the county more vibrant.
"Northampton County spent $2 million – $1 million each for ArtsQuest and PBS39 – at SteelStacks over 10 years, investing in a project that we feel has returned many times the value in population growth, both locally and with visitors, broadening and enriching our culture heritage, encouraging economic growth and attracting businesses, as well as building local and regional pride."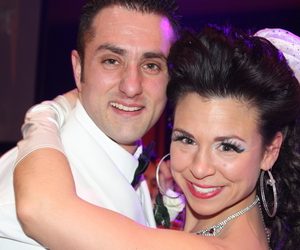 The Power of the Arts
Since opening Bonn Place seven months ago, the Masottos say they have seen their business grow steadily, thanks to both dedicated locals and many out-of-town visitors dropping in. Stop by on any given night and you'll find guests quaffing exquisite IPAs, flavorful amber ales and even unique seasonals like the tiramisu-inspired Nonna Rosalia.
"Every time we look at our numbers it just keeps getting busier and busier, and we do think it's because of the local community," Gina says. "We do have regulars, but I can't tell you the number of times we've had someone come in and say, 'Oh, I'm seeing a show at the Stacks' or 'We were just walking around and…saw the building and we thought we'd stop in.'"
For the Masottos, the decision to settle on Bethlehem's SouthSide has been one of the best investments they've ever made. The couple says the city was great to work with when they were starting the business, while the people who live here really make the area special. Plus, there's an arts and entertainment district only a few blocks away that they visit throughout the year for things like screenings at the Frank Banko Alehouse Cinemas, the free Levitt Pavilion summer concert series and even the PEEPS Chick Drop on New Year's Eve.
Gina says that if there's one thing that people and prospective business investors from outside the area may not realize about Bethlehem, it's how wonderful the city truly is.
"I think they underestimate it," she says. "They're like, 'Oh, you know, it's a little steel town' and it's not that at all.
"That's what we thought it was. We thought, 'Oh, we're headed to another gig in the middle of nowhere,' and that's not how it is. Bethlehem is a really vibrant and welcoming community."

As ArtsQuest's programming at SteelStacks has grown over the past five years, so has the SouthSide's business district, and our ArtsQuest Members play a huge role in all of this. Help us continue our work in the community by becoming a member today by filling out the enclosed envelope or joining at artsquest.org/members.