Free 'Dream Big' Screenings Return to SteelStacks Feb. 20-24 for National Engineers Week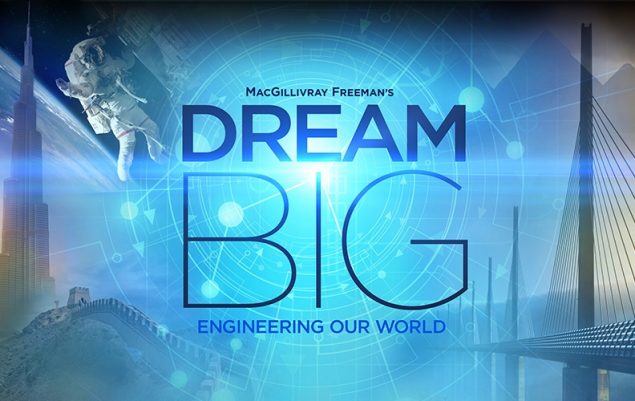 Special Female Engineering Panel to Address Students on 'Introduce a Girl to Engineering Day'
BETHLEHEM, PA—An all-female engineer panel celebrating "Introduce a Girl to Engineering Day" Feb. 22 highlights the second year of the "Dream Big" educational initiative at SteelStacks this February. The Lehigh Valley Section of American Society of Civil Engineers (LVASCE) and ArtsQuest have once again partnered to strengthen STEM-based education during National Engineers Week as area middle and high schools are invited to discover how engineering has helped transform our world by attending free screenings of the acclaimed educational film, "Dream Big: Engineering Our World," at the ArtsQuest Center at SteelStacks Feb. 20-24.
Student screenings of Dream Big will take place Feb. 20-23 at 9 and 11 a.m., with an additional screening set for Feb. 24 at 10 a.m. Following each student screening, students take part in a Q&A session with local engineers. On Feb. 22, students will have the opportunity to meet and speak with an all-female engineer panel featuring RETTEW Project Engineer Elizabeth Helsel, Harsco Industrial Patterson-Kelley Process Engineering Manager Laureen Pellegrino, Praxair Inc. Facility Superintendent Carly Scuderi and EnviroAce Founder & President Mary Rooney.
"Being an engineer is a great career; it provides interesting projects to work on and a good salary, but its hard work to get there," says Rooney, a member of the Lehigh Valley Section of The Society of Women Engineers who in 2017 was named the Pennsylvania Society of Professional Engineers' Lehigh Valley Chapter Engineer of the Year. "Just 30 years ago, five percent of the engineering graduates were women. Now it's about 20 percent, but we still have a long way to go.
"In putting forth an all-female panel, we want to make a clear statement about the success of women engineers to let our enthusiasm for our careers show. We hope the film and this panel will encourage girls in the audience to voice their questions now and to persist in school in the study of math and science. Big dreams take hard work."
After last year's successful screenings of "Dream Big" to more than 600 students in the region, ArtsQuest Education and Outreach Director Lisa Harms, LVASCE President Michael Derr and LVASCE Education and Professionals Integration Committee Chair Stephen Ressler brought the film back to SteelStacks with the hopes of exceeding 1,000 students this year.
"ArtsQuest is thrilled to once again partner with ASCE to celebrate National Engineering Week," Harms says. "This unique collaboration utilizes the Frank Banko Alehouse Cinemas as a venue for ASCE to provide free school screenings of 'Dream Big.' In 2017, everyone was blown away by the positive response we received from students and teachers.
"The film itself is amazing and unlike anything most of us had ever seen. The Q&A sessions with the panel of engineers really engaged students and got them thinking about careers in engineering. It was wonderful to see the impact this experience had on so many students."
Among the school districts participating in the free Dream Big screenings so far are Allentown, Allentown Diocese, Bethlehem, East Penn and Parkland school districts.
As part of each screening, teachers and educators will also receive access to a variety of educational resources including an educator guide with lesson plans for grades K-12 that align with Next Generation Science Standards (NGSS); instructions for 50 hands-on engineering activities; and 10 educational videos they can incorporate into their curriculum.
The innovative partnership between ArtsQuest and the Lehigh Valley Section of ASCE is an educational initiative developed by the Lehigh Valley's ASCE Education and Professional Integration Committee, which focuses on acquainting students with the practice of civil engineering by offering educational programs, presentations and activities related to the profession.
"Dream Big" is designed to educate students about the essential role engineers play in our world, help raise awareness and change perceptions about the profession, and inspire young people to consider careers in engineering. Through its strong focus on education, the film enhances students' understanding of engineering and inspires them to learn more about the "E" in STEM, the curriculum-based approach to preparing students for the fields of Science, Technology, Engineering and Mathematics. The film, created by the Academy Award nominated producers of Everest and The Living Sea, takes viewers on a journey of discovery from the world's tallest building to a bridge higher than the clouds. Along the way, audiences witness how today's engineers are shaping the world of tomorrow.
ArtsQuest and LVASCE are still accepting reservations from area schools for the Dream Big school screenings Feb. 20-23. Reservations can be made by contacting Harms at lharms@artsquest.org or 610-332-1389.
An additional special screening of Dream Big will take place Feb. 24, 10 a.m., at the ArtsQuest Center cinemas for individuals who cannot attend during the week. Seats can be reserved in advance by registering at www.lvasce.org/events. Donations will be accepted for the Feb. 24 screening, and all ticket donations go towards costs associated with the screenings.