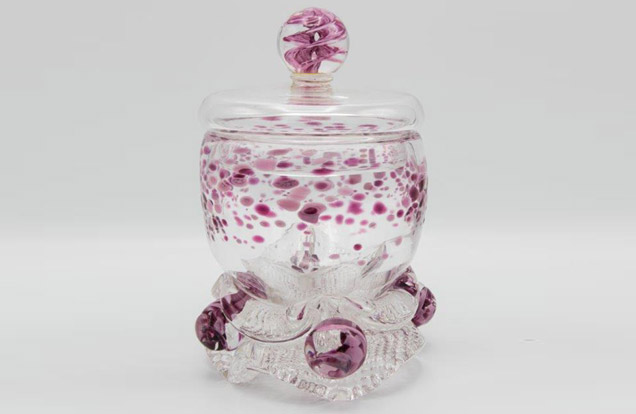 February 2020 Volunteer Spotlight
Each month, our volunteer committee decides on volunteers to spotlight! For February 2019, we wanted highlight Hence Bollinger, who volunteers extensively with our Glass Studio team!
Q: What inspired you to begin volunteering with the Glass Studio?
A: I observed that many of the other glass students were creative and fun people that you wanted to be around. At the same time, watching, listening and assisting other more skilled glass instructors/artists while volunteering helps you develop your own knowledge with the material.
Q: What's your favorite thing about working in the Glass Studio?
A: Working with the molten material is always exhilarating, however, I immensely enjoy an Italian grinding technique called "Battuto". This is a cold working process developed in the early 1900's that allows a piece of glass art to truly become elevated by grinding and carving out a design or texturizing the glass, in essence, it gives the surface a "hammered" look. Not many glass artists do this process and it involves are good amount of physicality which, for both of those reasons, adds to the allure.
Q: Of events where the Glass Studio gets outside of the Banana Factory (Musikfest, Christkindlmarkt, Oktoberfest), which is the most fun to help with?
A: All of them! As part of our glass community here at Banana Factory, many of us in the studio feel a strong sense of commitment to make our Glass Studio a success no matter what festival it is. No one festival really stands out more than another, they are all fun in their unique way.
Q: When you're not volunteering for ArtsQuest, what do you like to do in your spare time?
A: I am creating functional glassware in the glass studio, riding my bike, sea kayaking, playing with my 3 cats, dabbling in the culinary arts, practicing juggling , studying the French language, ( I am a bit of a polymath) and exploring the world with the best travel companion ever, my husband Andy.
Q: If you could bring any artist to the Banana Factory, who would it be and why?
A: Funny you should ask this question, I have assisted Dennis Gardner, the glass studio manager with bringing in a number of world renowned glass artists to Banana Factory over the last 5-7 years, Boyd Sugiki, Kenny Pieper, Ed Branson, Grant Garmezy, Jasen Johnson. But the most notable for me personally, was having Fritz Dreisbach who was one of the early pioneers of the American glass movement, as a visiting artist in April 2019.
Q: What 2 projects that you're most proud of?
A: I am content that I am (now) skilled enough to make an actual set of drinking glasses that are similar in size, and shape. I was commissioned a few years ago to make all the centerpieces for a sporting Hall of Fame induction ceremony.