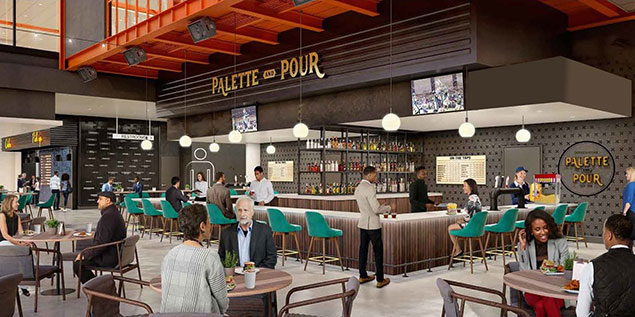 ArtsQuest Center First Floor Renovation
This spring, the ArtsQuest Center will look very different!
Our first floor renovations have begun, with the William Yee Connect Zone being transformed into a full-scale restaurant named Palette & Pour. The Stacks Shop will be removed and replaced with a dedicated stage for musical acts and we're excited to report we have two very generous donors who have stepped forward to help make this dynamic, new performance space possible – look for a major announcement from us later this spring!
Limited merchandise will be available from the new box office, but most of our items will featured in our online store. The Mike & Ike Bistro is disappearing in favor of a "statement" bar that will take up the middle of the first floor and another bar will be added outside in the Air Products Town Square, this one named Central Tap. The box office will be moved to the wall just inside the ArtsQuest Center front doors, which creates a more open space for patrons who enter the building.
With these changes we're looking to create a welcoming space where there is ample opportunity to eat, grab a drink, and relax. Live performances will no longer distract from a filmgoer's experience and we'll be able to offer a wider, more adventurous menu of food options. The first floor will go from feeling like a waiting room or staging area and instead become a focal point.
This renovation is the first step of ArtsQuest's ambitious Capital Campaign, and we hope that it will serve as evidence that we don't wish to rest comfortably on what we've already accomplished—we're excited to take SteelStacks and SouthSide Bethlehem to even greater heights. Best of all, the work is planned to be completed in May 2020…just in time for Levitt Season!