ARTSQUEST ANNOUNCES UPCOMING SUMMER ART EXHIBITION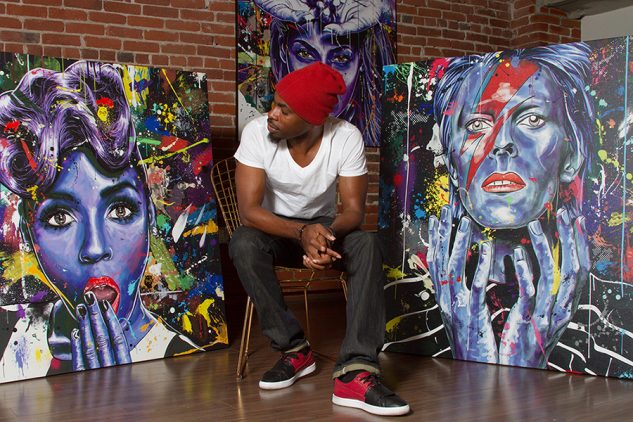 Artist Bart Cooper presents the Purple Series at the ArtsQuest Center
BETHLEHEM, Pa.— ArtsQuest is proud to announce contemporary artist Bart Cooper's  Purple Series will be on display on the first floor in Palette & Pour and the second floor in the Alvin H. Butz Gallery at the ArtsQuest Center starting the week of June 20 to December 11. The exhibition will include limited edition portraits of David Bowie, Beyonce, Marilyn Monroe and Audrey Hepburn in addition to the original Musikfest poster painting.
Each 48" x 48" art print piece reflects the individual featured artist and strives to dive deeper into the realm of self-expression and harmony within a person. Each subject chosen for the series expresses their work as a designer's original, one of a kind, no duplicates. Through the ages, purple has always been associated with royalty, nobility and prestige. Purple can symbolize mystery, magic, power and luxury. Purple color meaning is often used to portray rich powerful kings and leaders. Once the rarest dye to create for clothing. It was so exceedingly rare that it became worth its weight in gold. The splatter of colors is a depiction of the individual leaving his or her mark in this world, making it a more colorful place.

Raised in the Lehigh Valley, Bart Cooper is now a Los Angeles based multidimensional contemporary artist whose work merges the traditional with the technological. His signature mixed medium, acrylic style is quickly emerging in the contemporary scene and has already gained him several celebrity clients and private collectors both nationally and internationally. This year Cooper collaborated with ArtsQuest in the making of Musikfest's 2022 poster that aims to represent a message of unity and inclusion. Cooper's summer exhibition Purple Series depicts 17 prints with a similar theme as each piece is inspired by an artist, symbol or leader with each subject was chosen based on their "unique persona" in Cooper's signature acrylic style.
Similarly, Cooper's Heroes exhibition was on display in the Banana Factory Crayola Gallery from March to the end of May 2022 and received a warm reception and rave reviews. The Heroes exhibition depicts artwork dedicated to "toying the line" between popular Marvel superheroes to suitable strong and powerful Black women leaders.
Still on display in the Banana Factory Hallway is the Queering Care exhibit until August 14, 2022. Queering Care redefines what it means to care for one another in the queer community in the face of LGBTQ+ oppression. The exhibit is guest curated and juried by artist and arts educator Rei Ukon, a queer and trans-Japanese collage artist with an interest in exploring inner peace and the spiritual world. Okon is currently a teaching artist at the Banana Factory, Lehigh University Art Galleries, and the Art Establishment.