ARTSQUEST ANNOUNCES UPCOMING MUSIKFEST CAFÉ SHOWS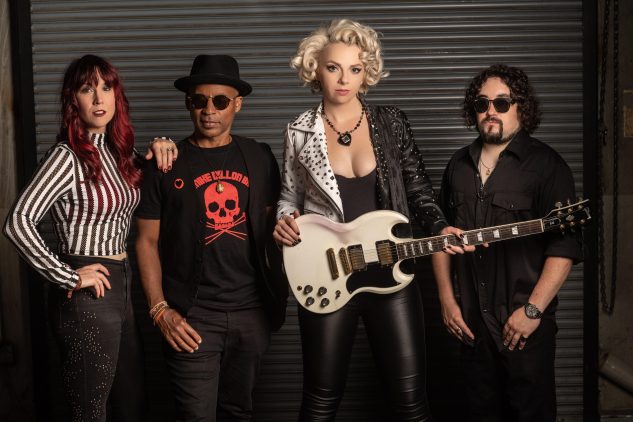 A variety of shows have been scheduled throughout 2022, including a Taylor Swift and Olivia Rodrigo themed dance party.
BETHLEHEM, Pa.— ArtsQuest is proud to announce newly scheduled shows in the Musikfest Café, presented by Yuengling. Tickets to these shows are available for both ArtsQuest members and the general public at steelstacks.org. For more exclusive ticket opportunities, become an ArtsQuest Circle donor today.
Swift & Sour - A Taylor & Olivia Dance Party will bring the Swift sentiment mixed with the Olivia Rodrigo dance style tunes in this tribute party in Musikfest Café on Sat., July 16. Tickets for this costume encouraged tribute night will go on sale for ArtsQuest members on Wed., Feb. 23 and the general public on Fri., Feb. 25. Come sing, dance and cry along to Taylor Swift and Olivia Rodrigo's deep cuts and popular hits that Swifties and Livies love.
Nick Lowe's Quality Rock & Roll Revue starring Los Straitjackets will bring their high-energy guitar forward show to the Café on Fri., June 17. Tickets for this performance go on sale for ArtsQuest members on Wed., Feb. 23 and to the public on Fri., Feb. 25. West London based singer songwriter; Nick Lowe has developed a reputation during his lengthy career as a musicians' musician. Lowe brings wit and understated excellence to every performance. Los Straitjackets are the leading practitioners of the lost art of the guitar instrumental. The band has taken their unique, high-energy brand of original rock & roll around the world while clad in their trademark Lucha Libre Mexican wrestling masks. The "Jackets" have delivered their trademark guitar licks to 16 albums, thousands of concerts and dozens of films and TV shows.
The Devon Allman Project and co-headliner The Samantha Fish Band with opening act The River Kittens will rock the Musikfest Café on Wed., March 16. There will be a full band set by both acts, that will also feature two Revival alumni guest artists Jimmy Hall (Wet Willie) and Larry McCray. The night will close with an encore set that will include DAP, Samantha Fish, The River Kittens and Jimmy Hall and Larry McCray all on stage together. The show also features the liquid light show and video visuals courtesy of "Brotherhood of Light."
Rhyme & Reason II, a poetry and spoken word event will be hosted at the Musikfest Café on Sat., April 30. Movement Moves Media and Tribes & Vibes have organized a high energy spoken word and performance poetry event featuring Brooklyn native Baby the Poet, a spoken word artist sharing their world views and truths. The evening's lineup will consist of emerging and established poets. Movement Moves Media is a volunteer-based nonprofit organization whose fundraising efforts go to programs that work to find solutions for at-risk young people, supporting the unhoused community and reducing gun violence.C
Pat Metheny Side-Eye, with James Francies and Joe Dyson, will entertain the crowd on Tues., Sept. 6. GRAMMY award-winning Metheny's versatility is nearly without peer on any instrument. Over the years, Metheny has performed with artists as diverse as Herbie Hancock to Jim Hall to David Bowie. Metheny has won countless polls as "Best Jazz Guitarist" and awards, including three gold records. He has also won 20 GRAMMY awards spread out over different categories including Best Rock Instrumental, Best Contemporary Jazz Recording and Best Jazz Instrumental Solo.
Masters of Soul will take the audience for a stroll down memory lane on Fri., Sept. 16, in the Musikfest Café. A celebration of legendary Motown songs and performers, Masters of Soul's 90-minute show features stylishly costumed, fully choreographed performances of both male and female groups backed by a live band. Based in Virginia Beach, the 10-person cast consists of three lead male vocalists and three lead female vocalists backed by a four-piece band of seasoned musicians who've been touring together for decades.

The Stranger - A Tribute to Billy Joel, will bring well known and loved songs of the singer songwriter to the Musikfest Café Fri., Dec. 16. Formed in the summer of 2009, The Stranger has amassed an impressive list of clientele, high profile events, festivals and concerts that would rival many national acts. With all members residing in the Charlotte North Carolina area, and several decades of experience between them, The Stranger is a musical powerhouse that is recognized as one of the best and most entertaining live bands in the business. With an unparalleled band of musicians that hums like a well-oiled machine, the result is a show that is not to be missed.

ArtsQuest will continue to follow the latest CDC, state and local health and safety guidelines. Visit artsquest.org/safety for the latest updates