ARTSQUEST ANNOUNCES ONE DAY TICKET SALE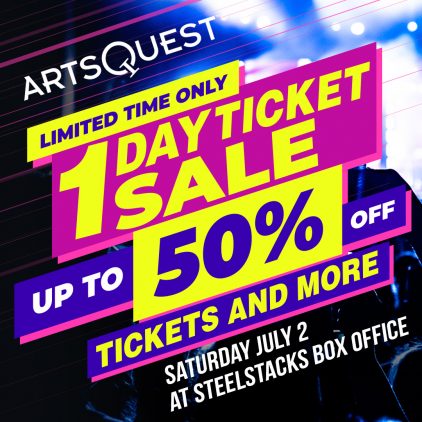 Tickets for Musikfest Headliners, food festivals, live music and more will be on sale Sat., July 2
BETHLEHEM, Pa. – ArtsQuest is excited to announce a flash One Day ticket sale on Sat., July 2, from noon to 5 p.m. This incredible offer features discounted tickets for 2022 Musikfest headliners, SteelStacks Summer Concert Series, upcoming food and festival experiences and more! To take full advantage of this summer sale, patrons must visit the ArtsQuest Center Box Office located at 101 Founders Way. Tickets are available for in-person purchase only. ArtsQuest Circle Donors, ArtsQuest Members, and Friends of Levitt will have exclusive access to the sale from 12 – 1 p.m., with the sale continuing from 1 to 5 p.m., for the general public. For more exclusive ticket access and advance purchase opportunities, become an ArtsQuest Circle Donor or Member today.
During Saturday's One Day Sale, patrons can enjoy 50% off ticket prices for a variety of events including the highly anticipated TacoFest, SangriaFest, Ginvitational, Musikfest headliners, SteelStacks Summer Series concerts and live performances in Musikfest Café presented by Yuengling.
This in-person sale event will take place during the One Earth ReggaeFest at the SteelStack campus. This inaugural festival produced in partnership by Movement Moves Media is an all-ages event with live music, unique vendors and authentic food from 2 p.m. to midnight. Performers featured at the festival include Red Fox, Sister Nancy, Space Kamp, Trouble City All Stars and Tropidelic.
Ticket offers are limited and based on availability at time of purchase. Fans hoping to take advantage of these special discounts are encouraged to arrive early. Purchases can only be made in person at the ArtsQuest Center Box Office; no phone or online orders will be accepted. Only new ticket purchases are eligible for the special promotions and no refunds or exchanges are permitted. For more information on the One Day Sale, visit www.steelstacks.org/sale/.
One Day Sale Ticket Offers
Musikfest Wind Creek Steel Stage Headliners General Admission & Terrace Tickets
Boyz II Men (Aug. 4)
Kip Moore (Aug. 5)
Poison (Aug. 7)
Counting Crows (Aug. 8)
Ziggy Marley (Aug. 9)
Disturbed (Aug. 10)
Kelsea Ballerini (Aug. 11)
Ja Rule & Ashanti (Aug. 12)
Alabama (Aug. 13)
Olga Tañón (Aug. 14)C
SteelStacks Summer Concert Series
Jason Isbell & the 500 Unit (Aug. 24)
Brett Eldredge with Lauren Alaina (Sept. 17)
Andy Montanez with Edgar Joel (Sept. 25)
Musikfest Café Presented by Yuengling
Brett Dennen (July 17)
Masters of Soul (Sept. 16)
Billy Ocean (Oct. 2)
Jeff Allen (Oct. 6)
Bobby Collins (Oct. 21)
Tracy Morgan (Oct. 29 late show only)
John Waite (Nov. 13)
Evolution of Joni Mitchell (Nov. 20)
Festivals and Events
TacoFest & TacoFest Patrón Tequila Tasting (July 10)
SangriaFest Upper Macungie (Sept. 3)
Ginvitational (Sept. 25)